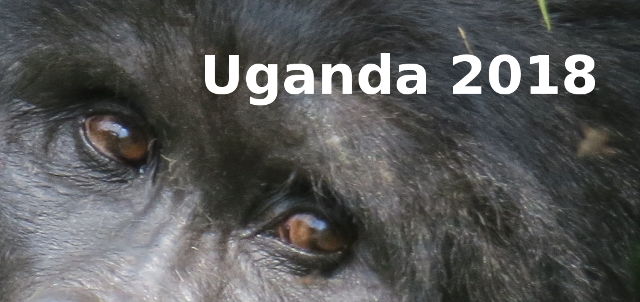 In January, 2018, we visited Uganda. The focus of the trip was to see birds - lots of birds! But, we also went trekking to search for both Mountain Gorillas and Chimpanzees, took boat trips on various lakes and rivers (including the Nile), and went on game drives in several national parks.
As shown on the map, Uganda is a relatively-small country in East Africa, to the west of Kenya and north of Tanzania. It is inland from any coast, but is on the shore of Lake Victoria, one of Africa's great lakes.

Previously a British protectorate, the Republic of Uganda gained independence in 1962 but retains English as an official language.
Uganda is also on the equator!
Our route took us from Entebbe (the international airport), on a clockwise swing around the south-western portion of the country, visiting a number of national parks, before returning, through Kampala, back to Entebbe.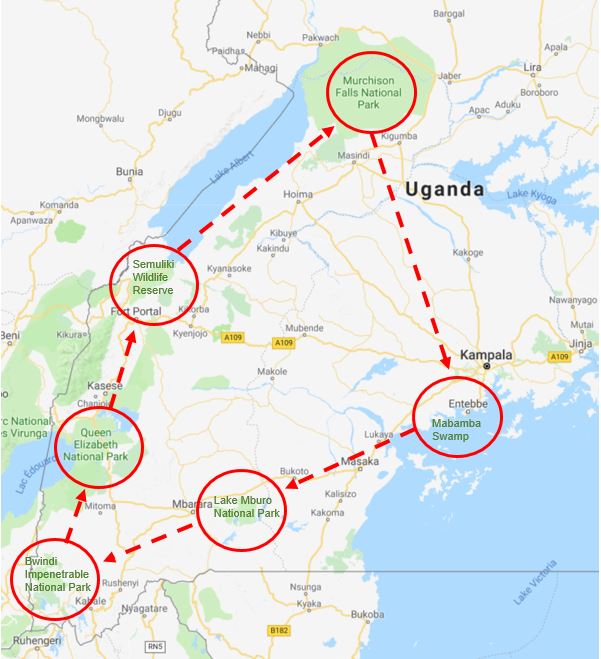 Our group was six in total. On the left, looking through the 'scope is Davis, our bird guide in training. Next is Deo (Deogratius Muhumuza) our bird guide and driver. Some guy is skulking in the centre-rear. Then, there is Thomas (son) and, on the far right, Tommy (father) our two new Danish birding friends.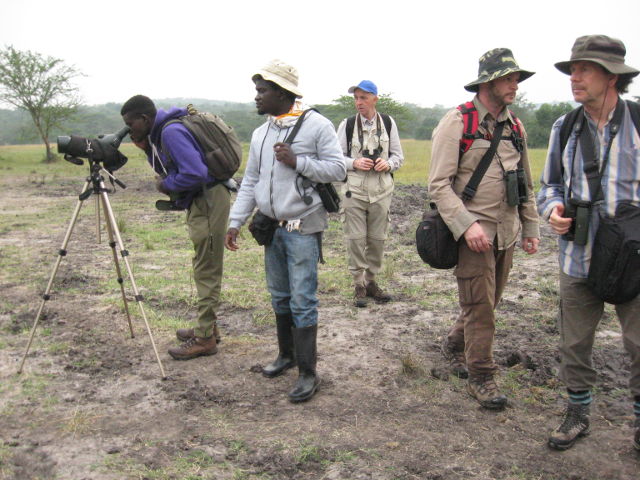 We often had additional "site guides", such as Rebecca, who is doing double duty, armed with binoculars with which to spot birds, and an AK47 to discourage any rogue elephants!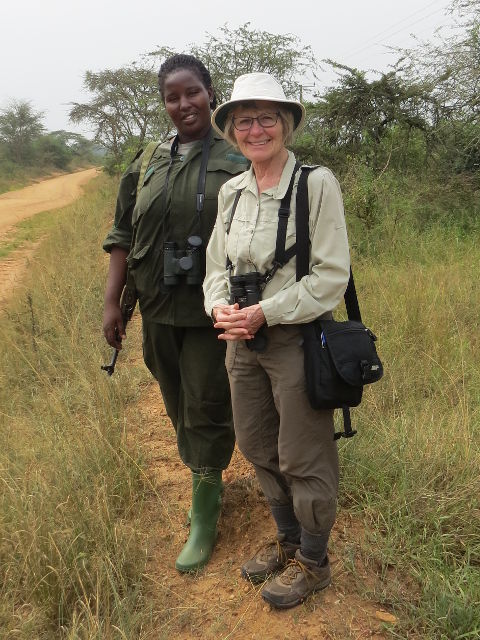 Our main mode of transportation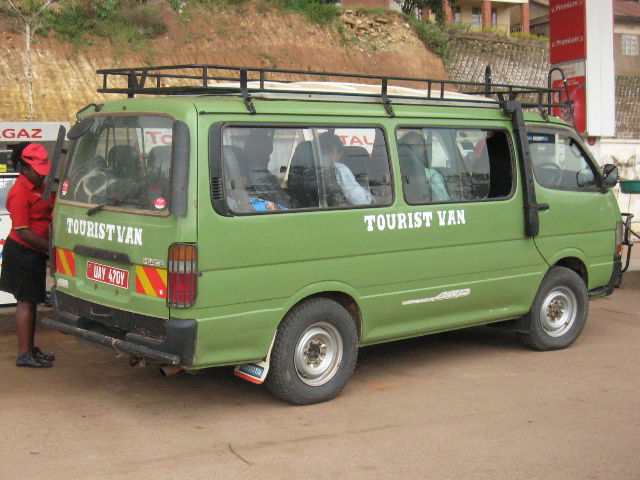 Accommodation was sometimes a tented bush camp...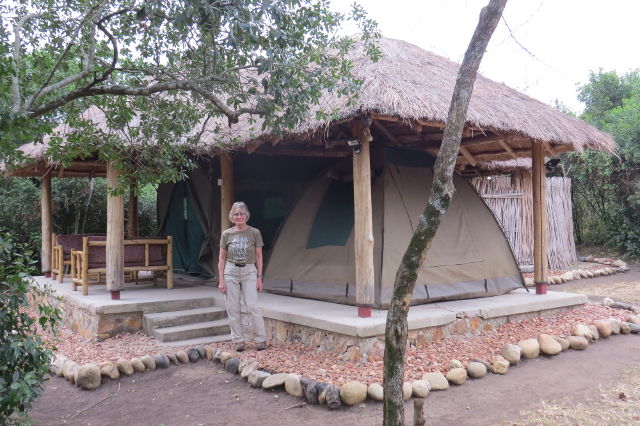 ...or some form of cottage or lodge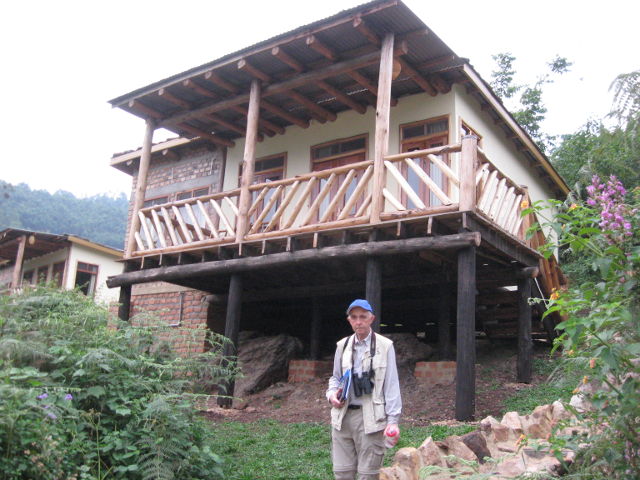 | | |
| --- | --- |
| One of our first birds was also one of our main targets - a pre-historic looking variety - the Shoebill Stork. | In the foliage, it's hard to appreciate that this guy is 4-feet tall, just like his cousin outside a local restaurant! |
Another weird and wonderful looking - and very colourful - member of the family, this time the Saddlebilled Stork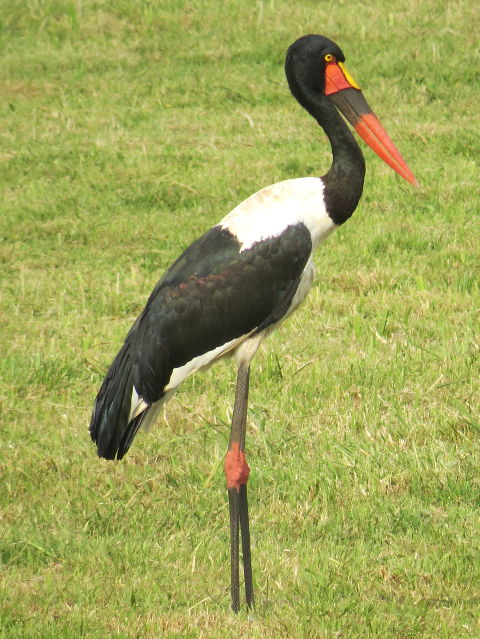 Not all the birds are quite as colourful as the Saddlebilled Stork, but some have quite colourful names.

This is a Toro-olive Greenbul.

The problem is that there are seven pages of Greenbuls in the field guide and they all look (more-or-less) like this!
Fortunately, there are many other species that are very easy to identify. [Hint - The name is a clue!]
Yellow-throated Longclaw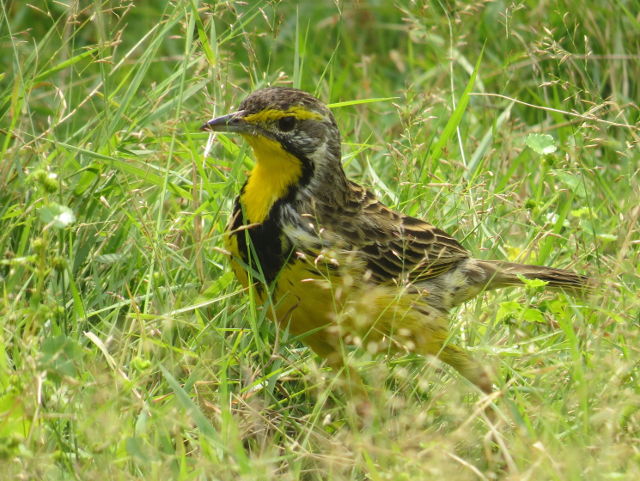 Black-faced Rufous Warbler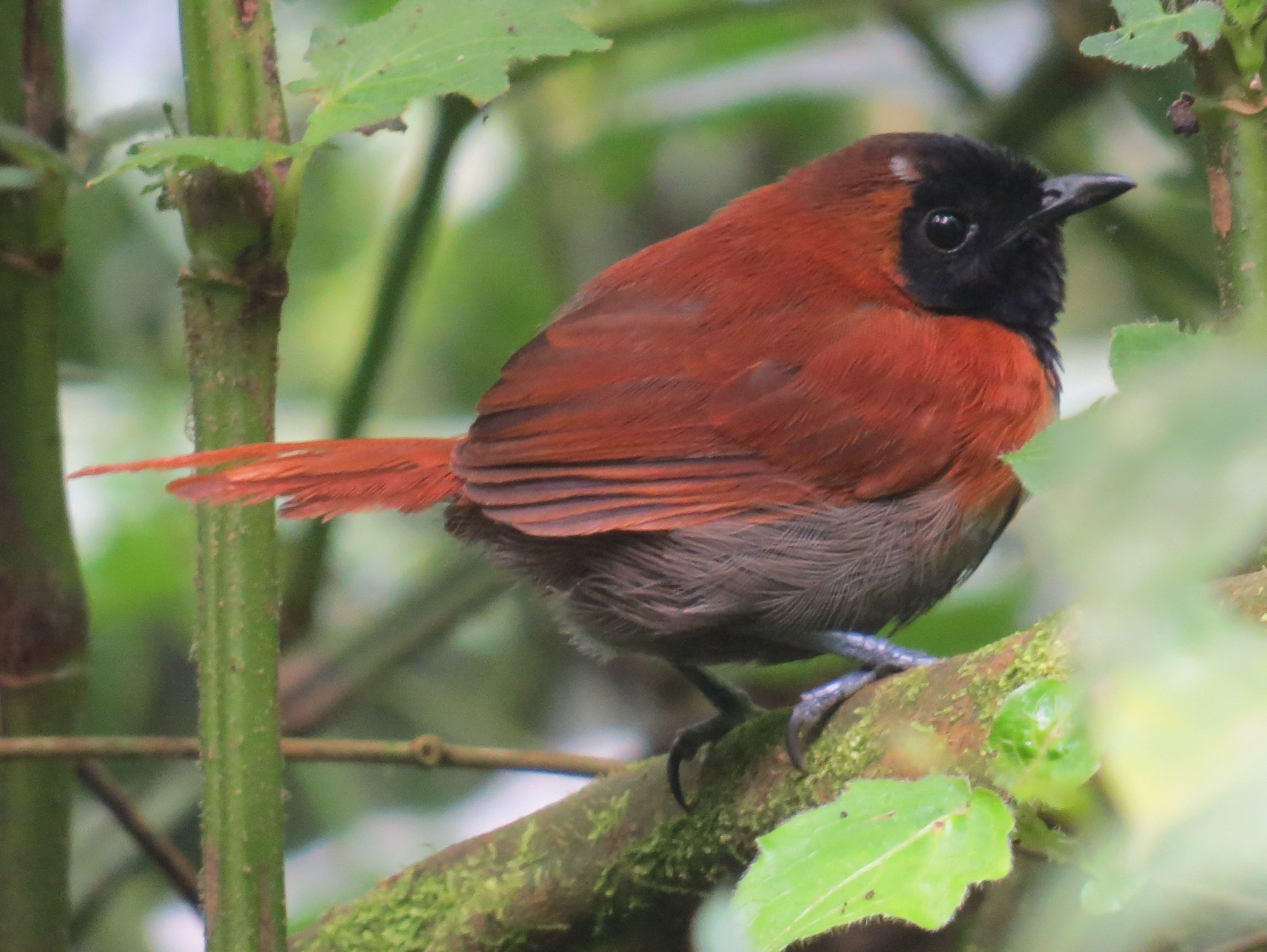 White-headed Barbet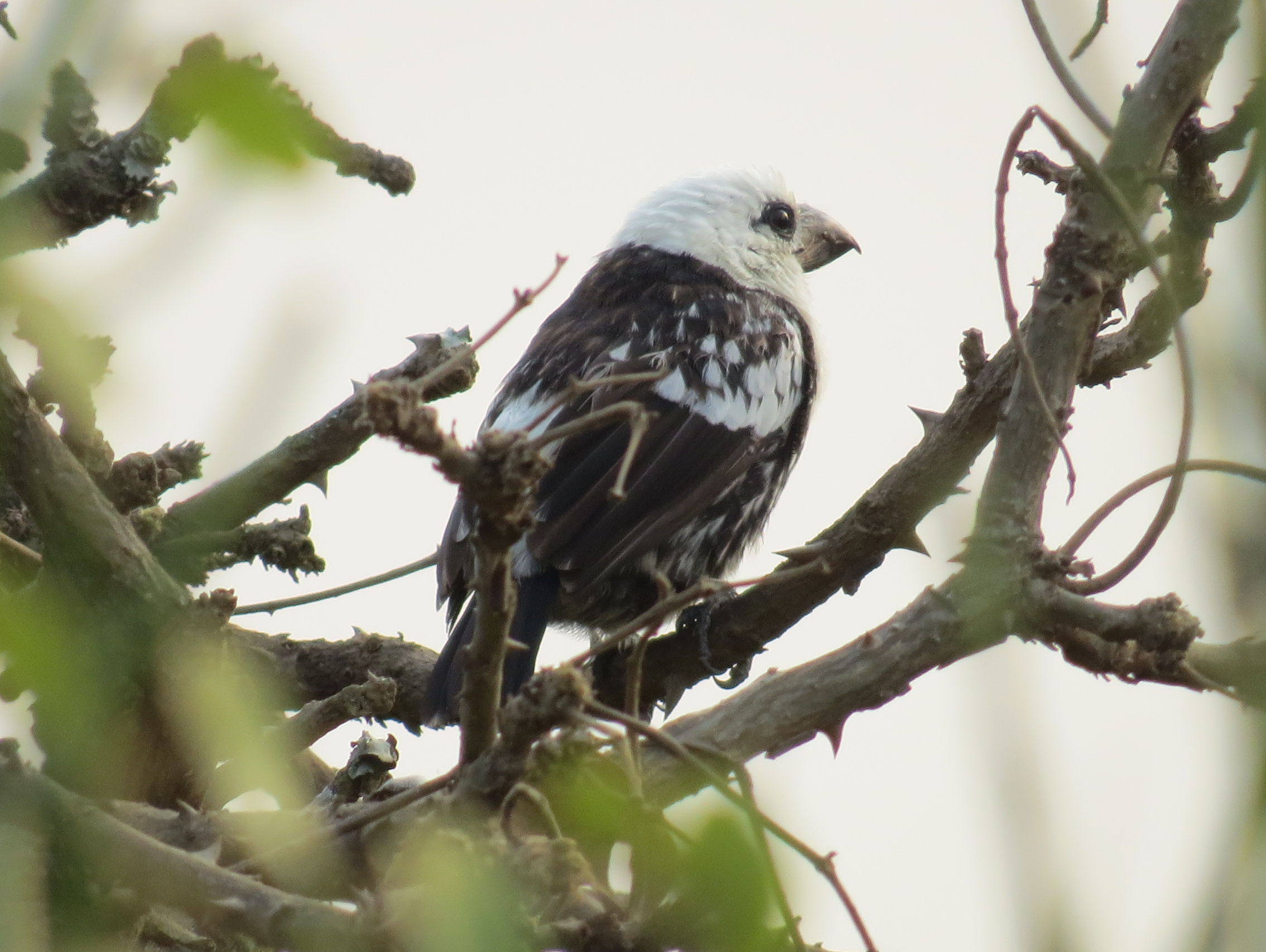 Searching through the foliage in the dark forests made it hard to see many species of birds well. We thought we would have better luck with gorillas.
But, not so fast, now we have to go bush-whacking! So, it's up and down steep ravines, off any identifiable trail, trying to get a foothold on plant stems beaten down - all parallel to the slope (of course!) - by our fellow trekkers.
What we need is a hiking pole (or two!) - and a local porter. He will carry the backpack and, quite literally, give us a hand, up-and-down dale!
So, meet Alex...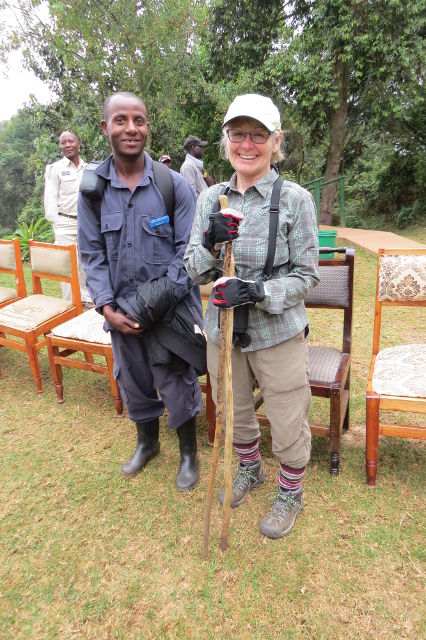 And, here's the problem. The members of our group are up ahead - somewhere. Perhaps this is why it's called an Impenetrable Forest!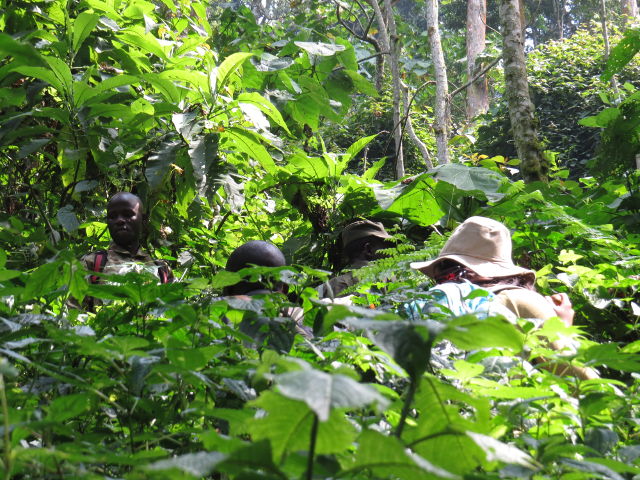 It's almost the same problem to see the animals - there's a Mountain Gorilla in there - honest!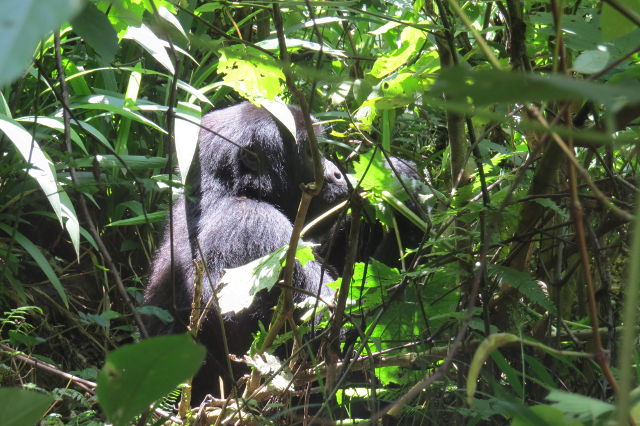 Told you!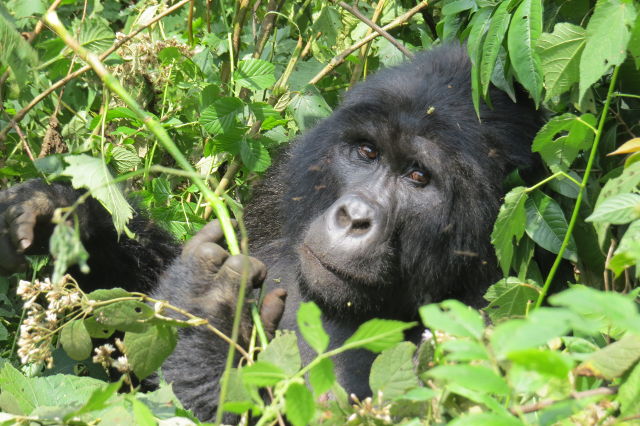 View videos* of the
Mountain Gorillas

Silverback (adult male)
(50.0 MB file download)

Mother and baby gorilla
(56.2 MB file download)

* When you select one of the above videos, close any Dropbox dialogue box that may pop up. Simply click on the "Play Video" icon in the middle of the video image that is displayed.
Two happy trekkers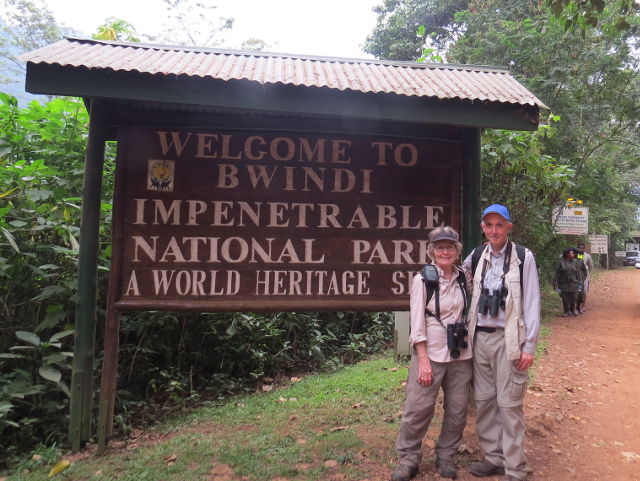 Did we say that many of the birds were quite colourful? This applies particularly to bee eaters.
Swallow-tailed Bee-eater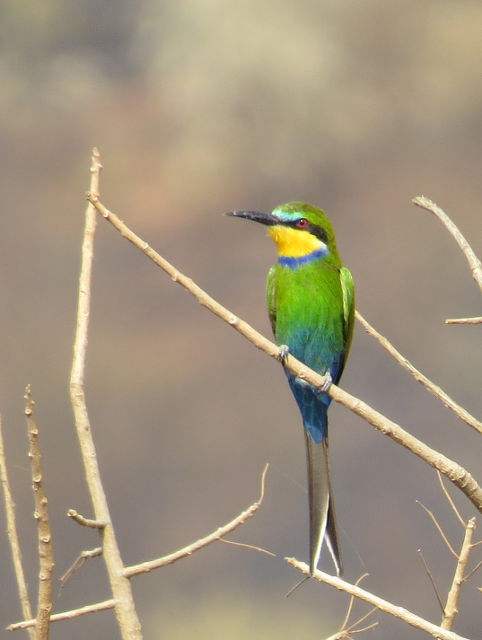 Red-throated Bee-eater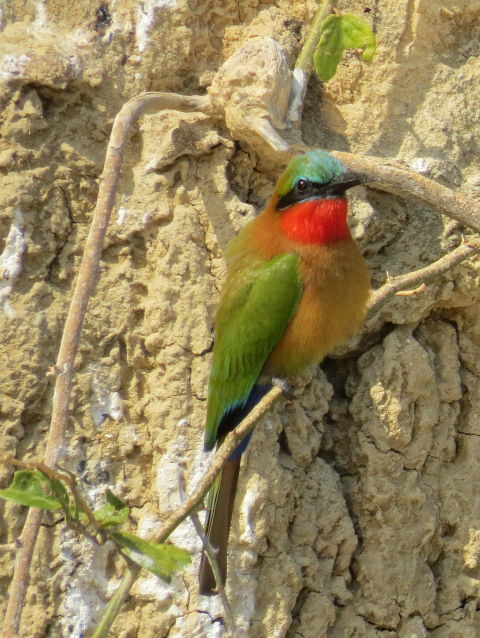 Little Bee-eater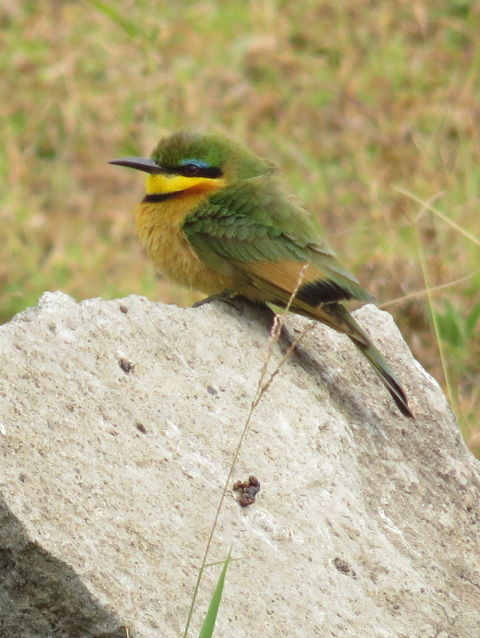 Chimpanzees are the closest relatives to humans...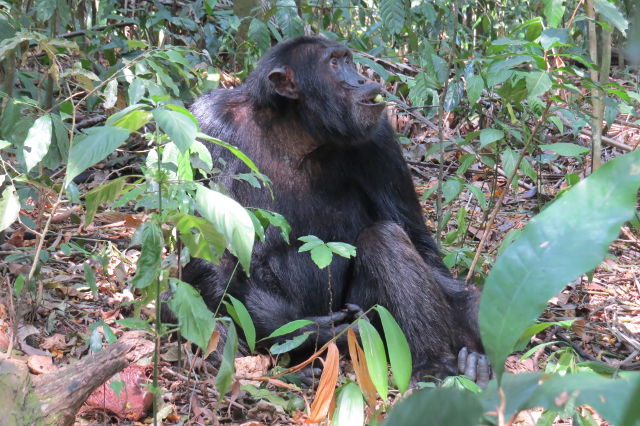 And, talking about humans, here are some photos from our "Faces of Africa" series...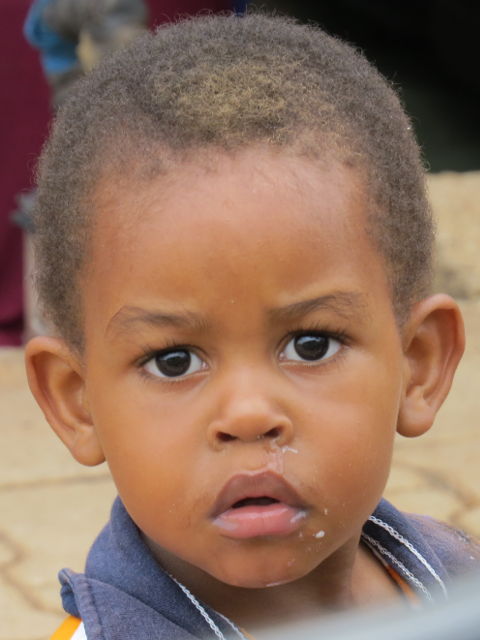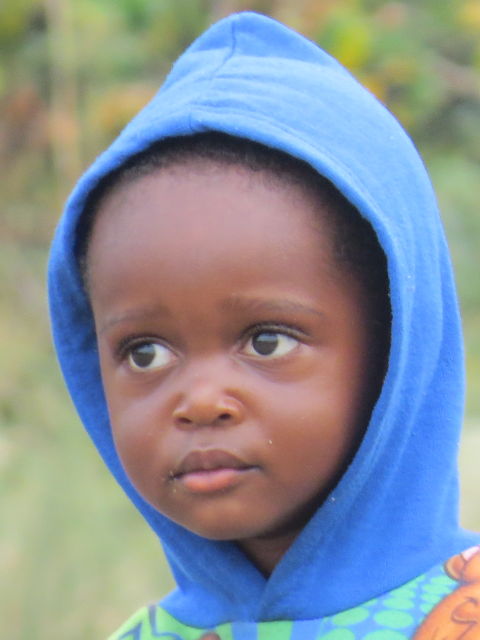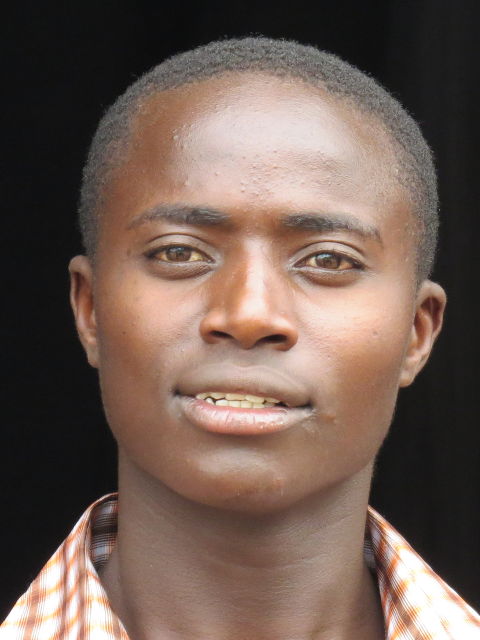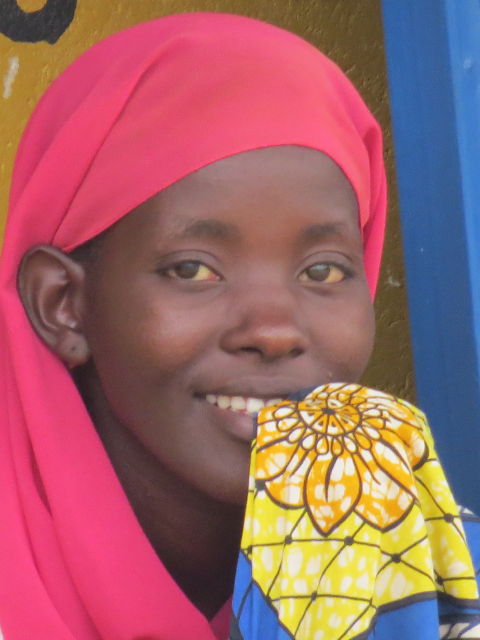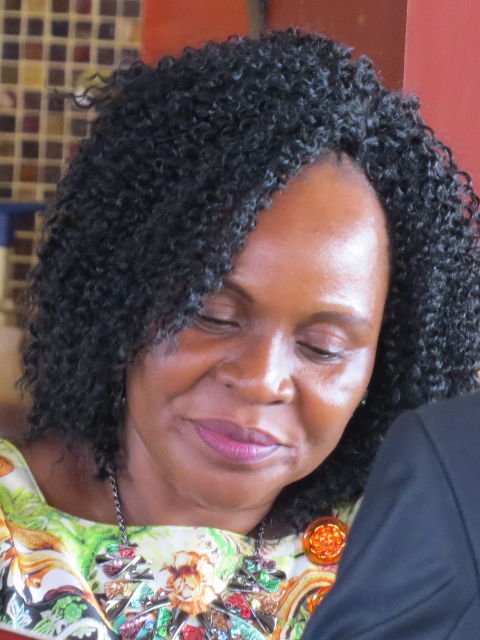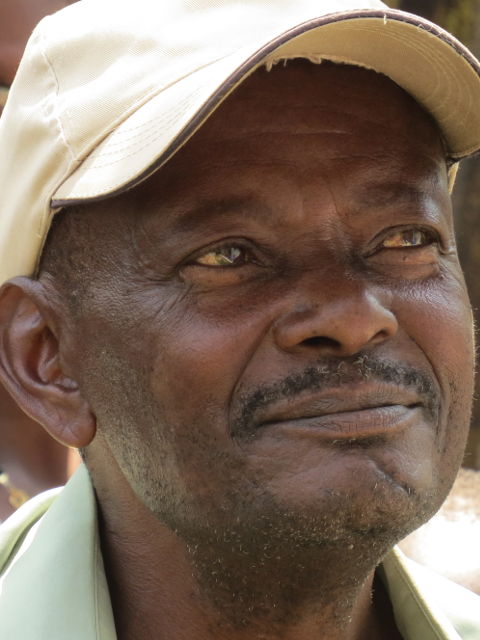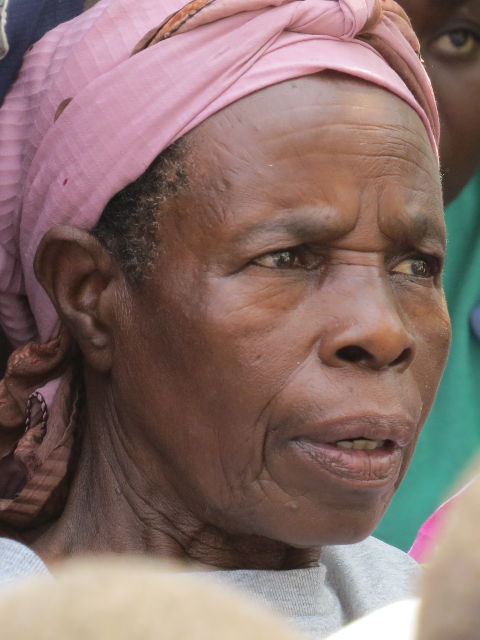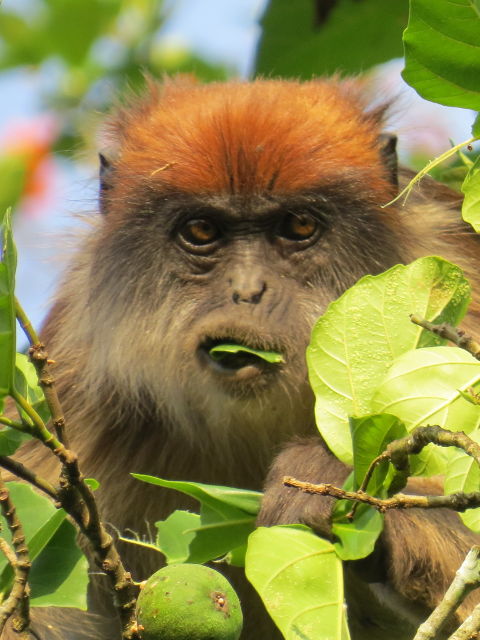 OK, so that last one was actually a Red Colobus Monkey, one of eight ape species we saw on the trip.
In general, the country, especially the rural areas seemed fairly poor, with small towns and lots of subsistence farming.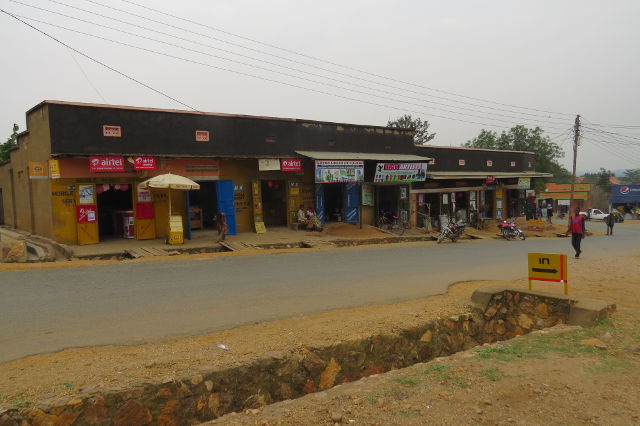 Water was generally a problem, with people (often children) carrying plastic containers to and from a water source such as a communal village pump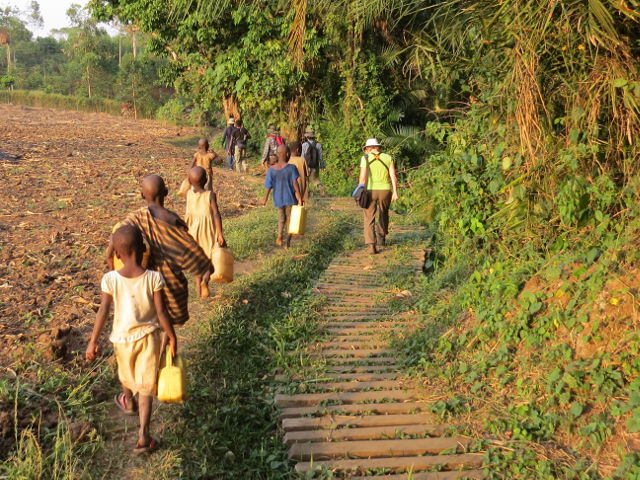 Nevertheless, there was lots of food for sale at the roadside - and this was always decoratively arranged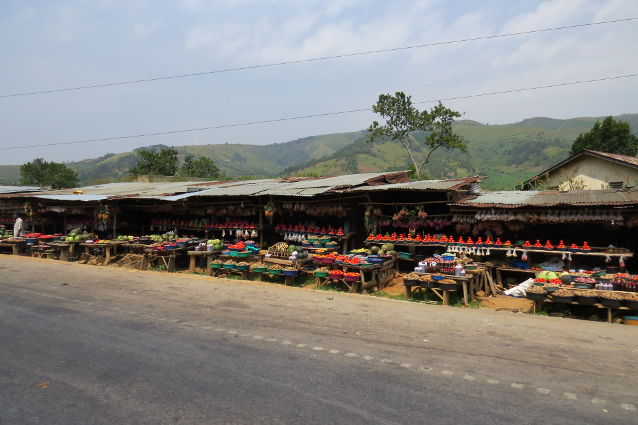 An interesting feature of roadside commerce is that many of the shops are painted in bright colours. But, the content has nothing to do with what's being sold. These are billboards!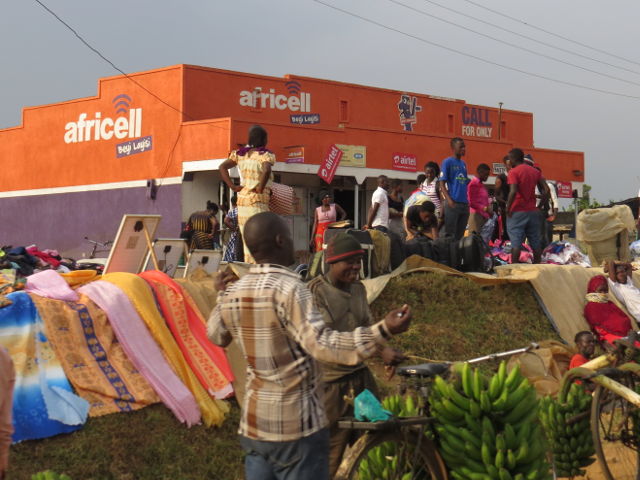 Colour was also the order of the day when it came to fabrics being offered for sale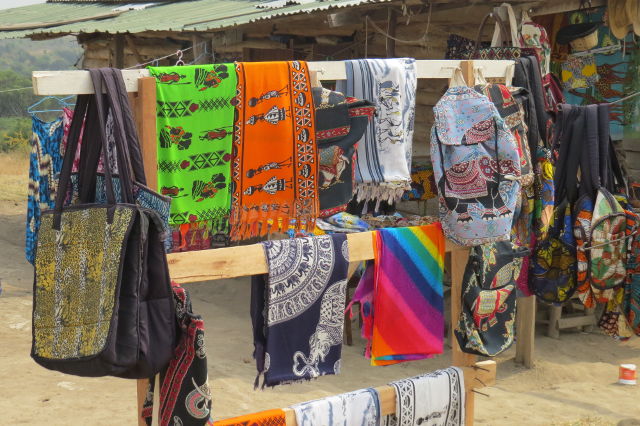 The people, especially the children, seemed to be happy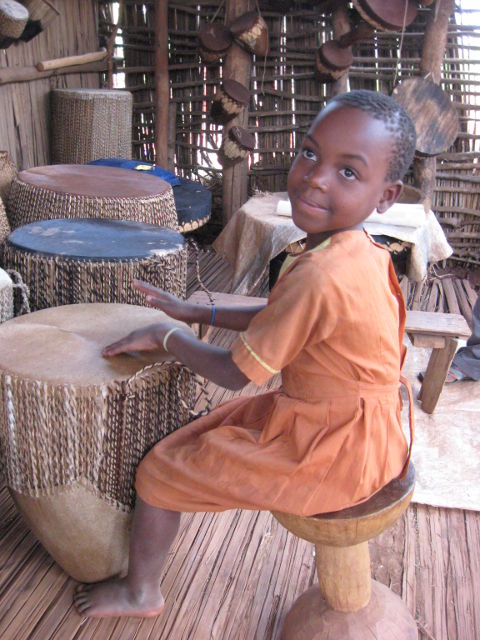 This was certainly the case when we stopped at Deo's village and handed out the school supplies that everyone had brought for them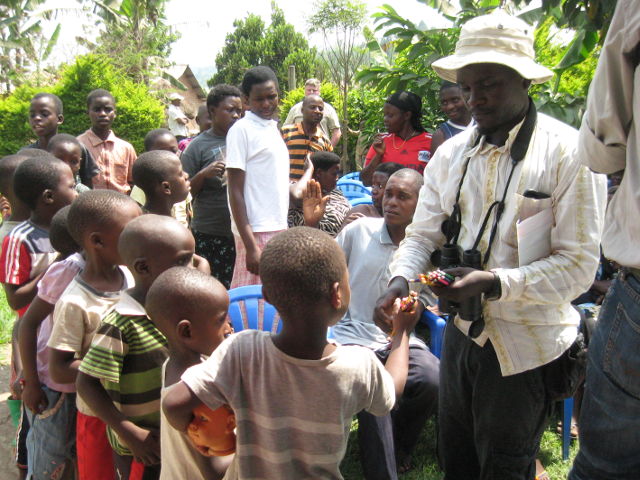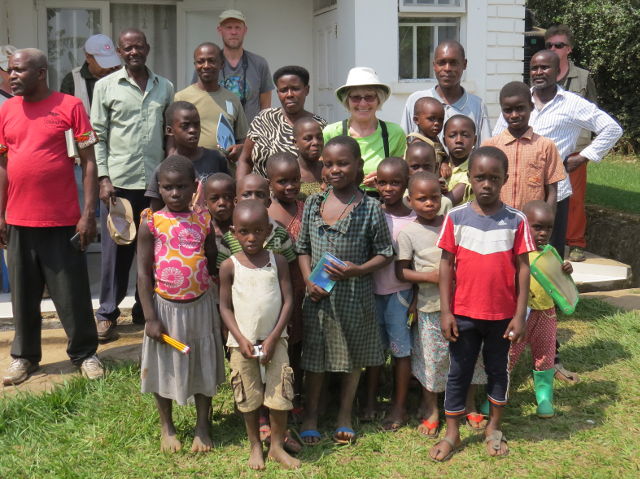 The roads were generally very bumpy, very dusty - and had the occasional traffic hazard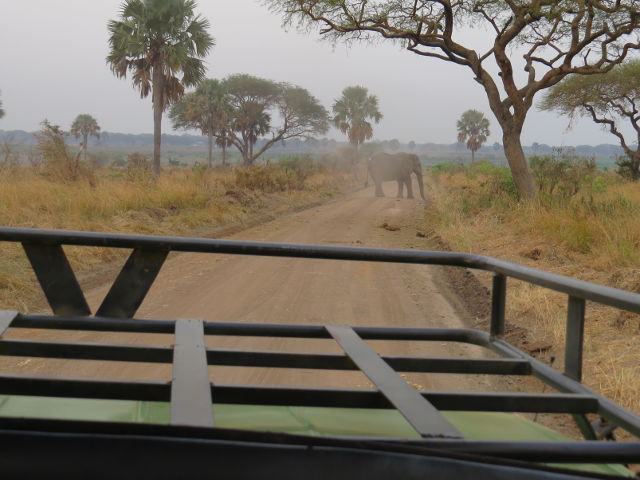 Various other animals were seen on our game drives through the savannah areas, including lots of antelopes...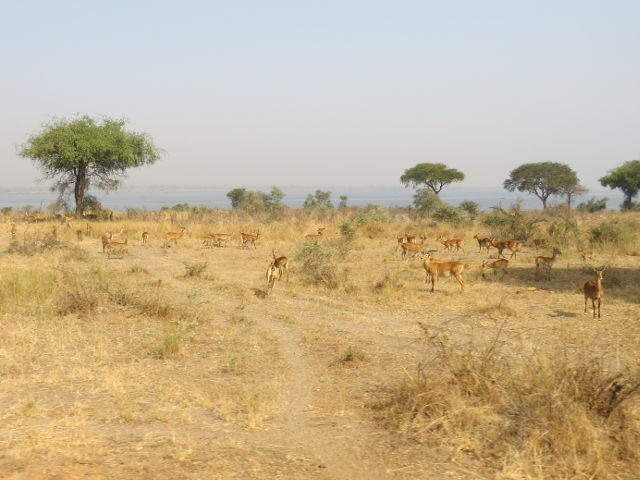 ...which were mainly Ugandan Kobs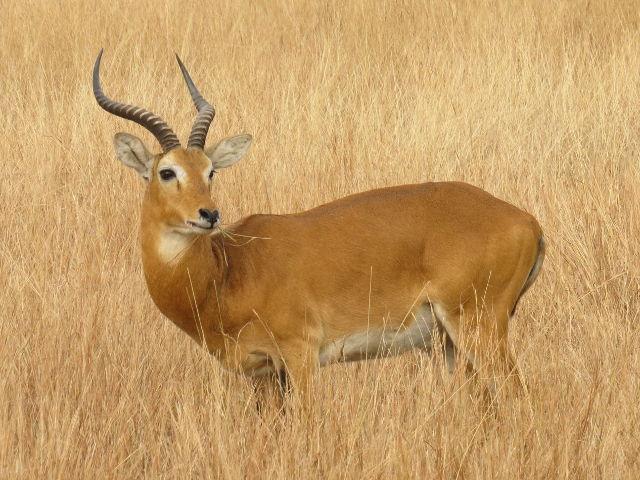 There were also Waterbucks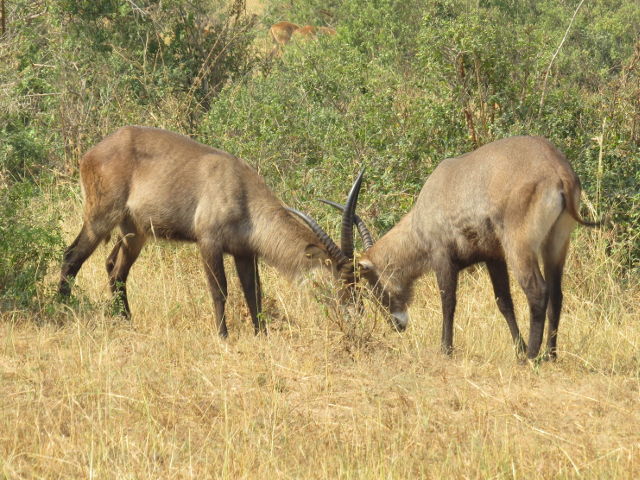 ...and those black-and-white guys (who are not antelopes).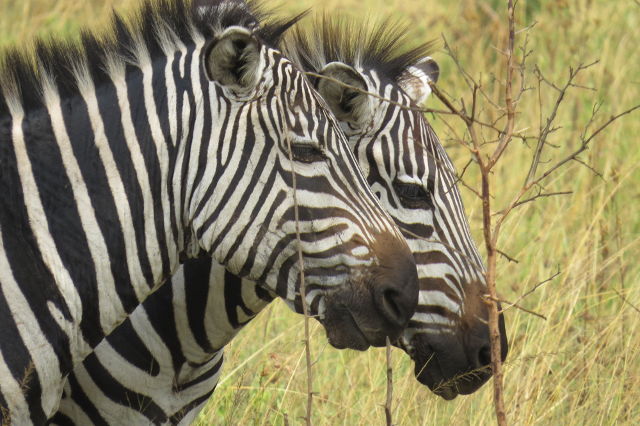 There were also birds present on the savannah... such as Grey Crowned Cranes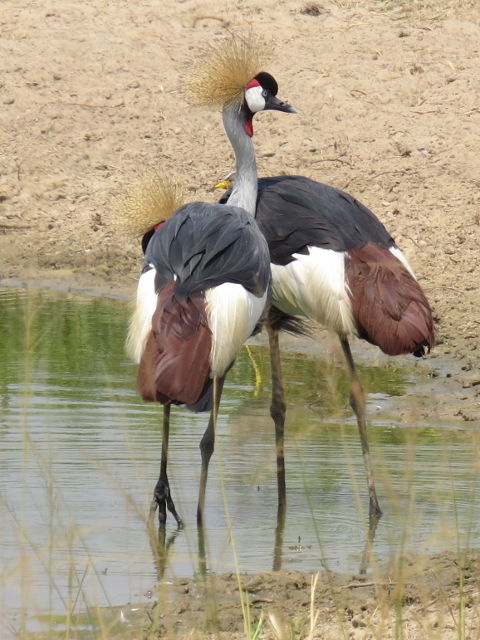 ... the Abyssinian Roller...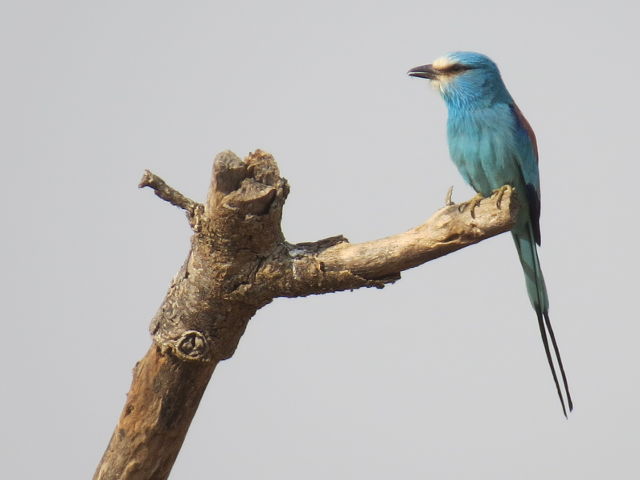 ...and the Wire-tailed Swallow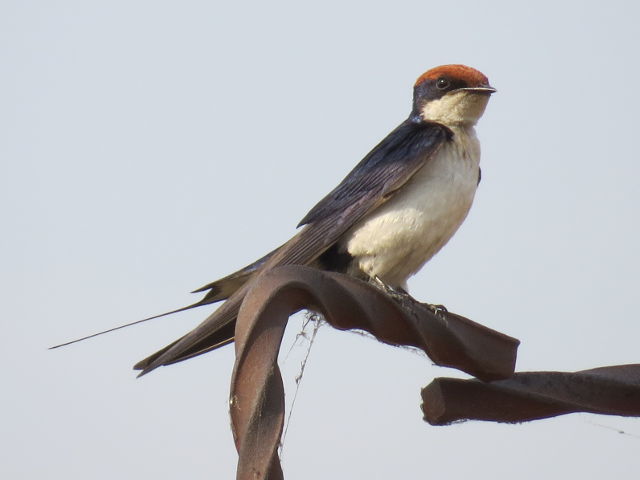 While cruising the lakes and rivers, provides more animal sightings... some completely out of the water...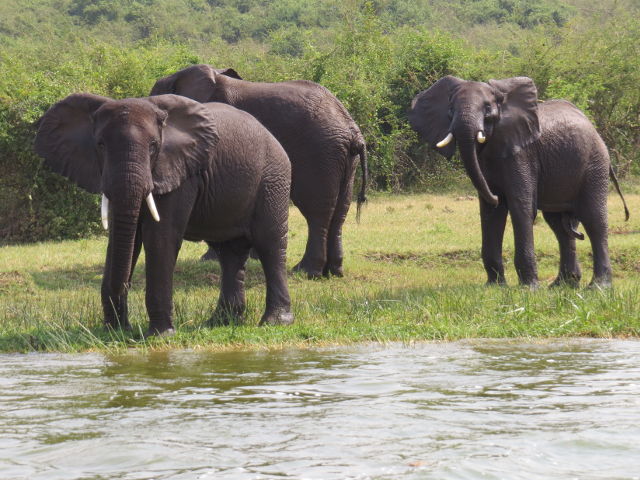 ... and some almost completely in the water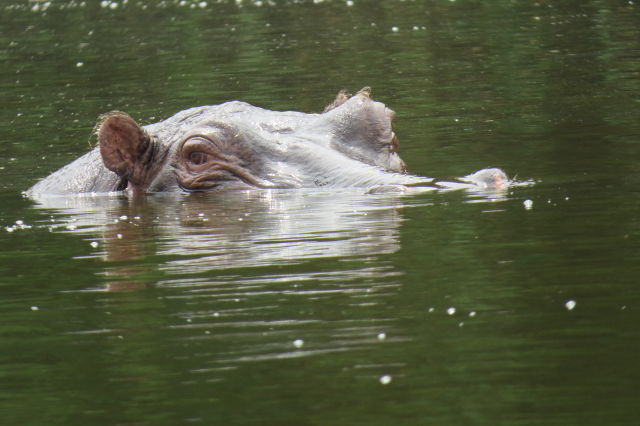 And, it wouldn't be the Nile with a crocodile!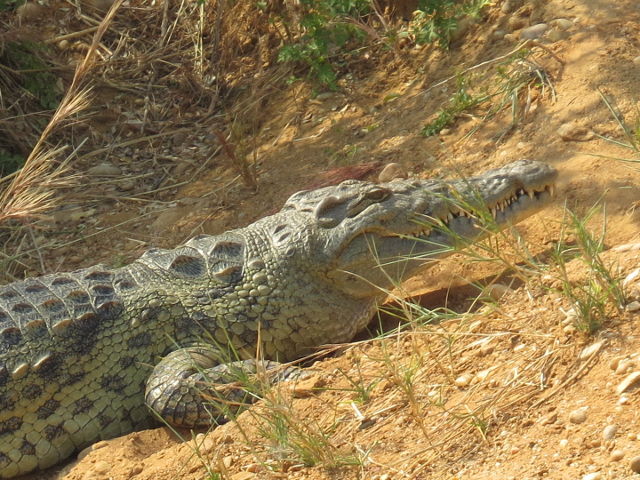 The water also produced more bird species, such as these Hamerkops...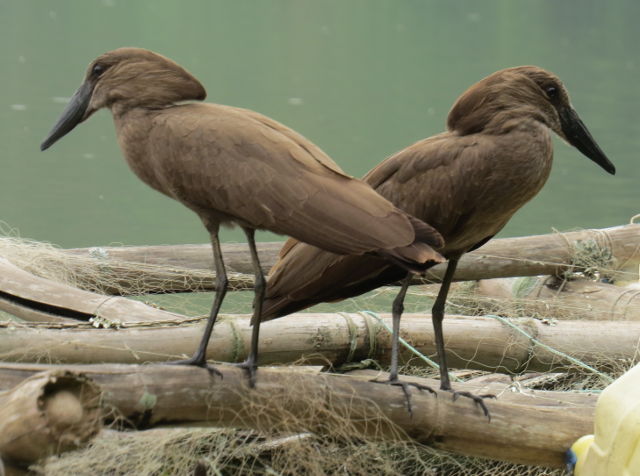 ...a Giant Kingfisher, and...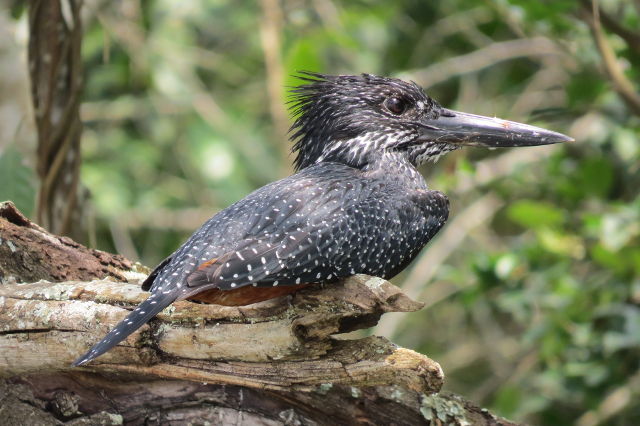 ...a rare visitor to Uganda, an Egyptian Plover
This species has only been seen in the last few years, and only as a single bird. We were lucky enough to see the 2018 version.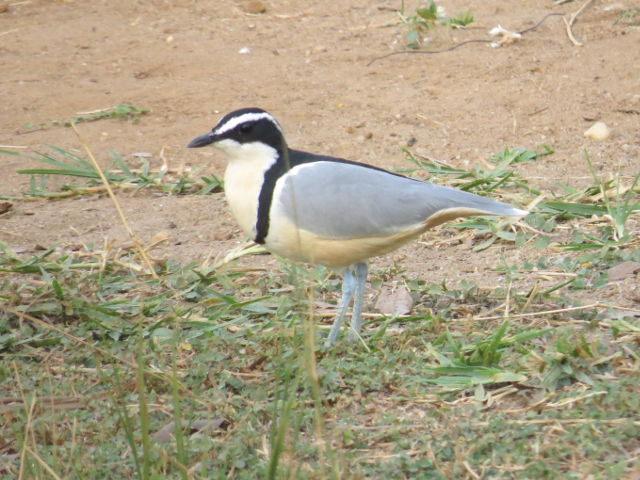 The trip up river brought us to Murchison Falls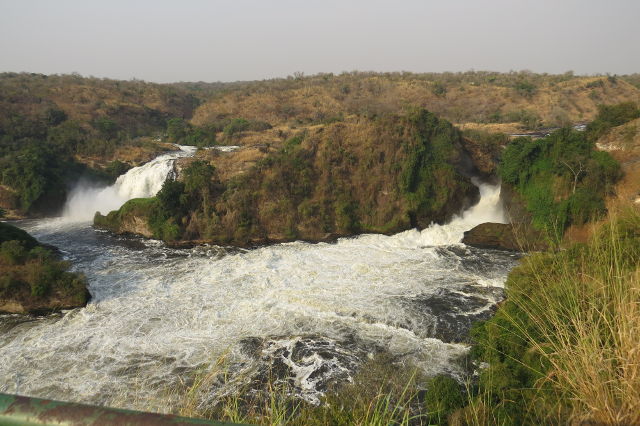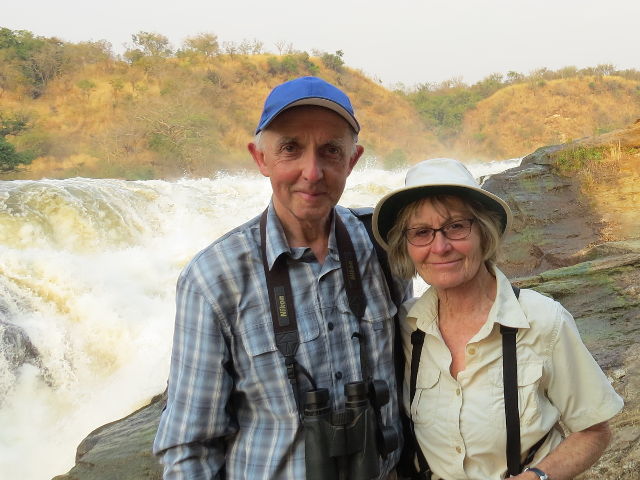 Did we say that we saw a few birds? - 435 species in all - including... Speckled Mousebird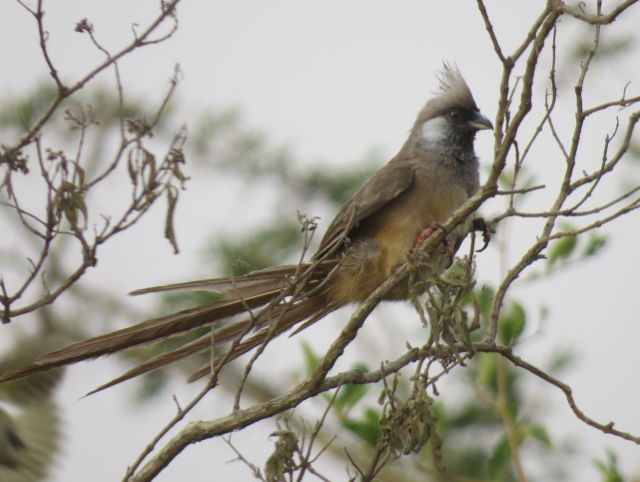 Speckled Pigeon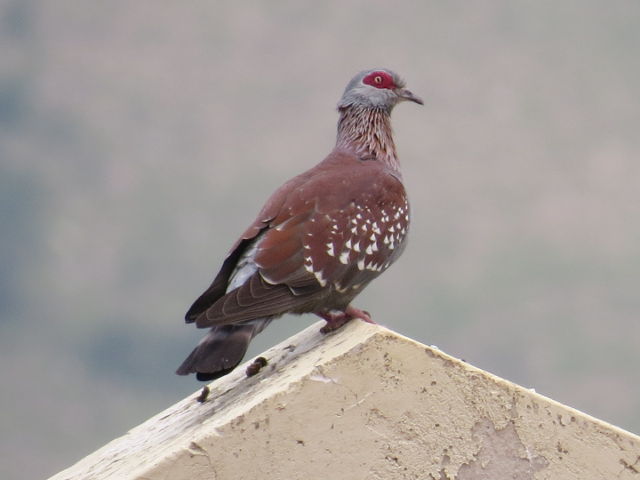 and Speckled... no, make that... Tropical Boubou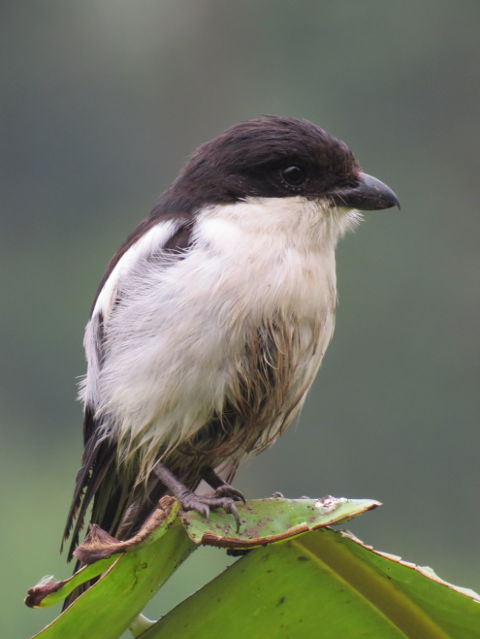 We also saw some pretty coloured flowers...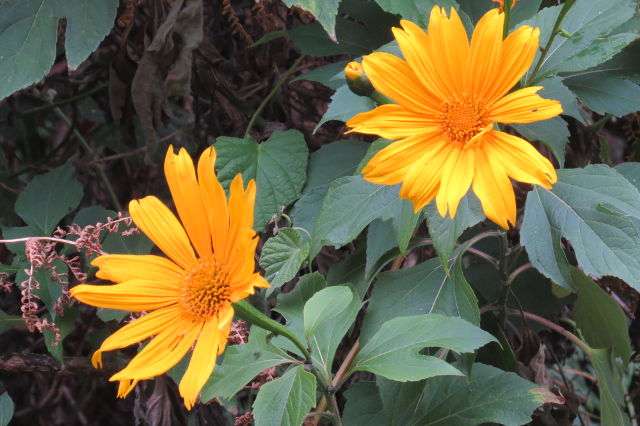 ...and lots more pretty coloured birds
Malachite Kingfisher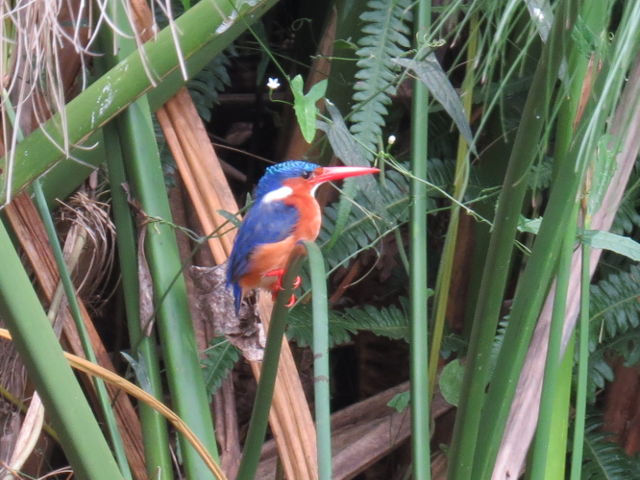 Black-billed Barbet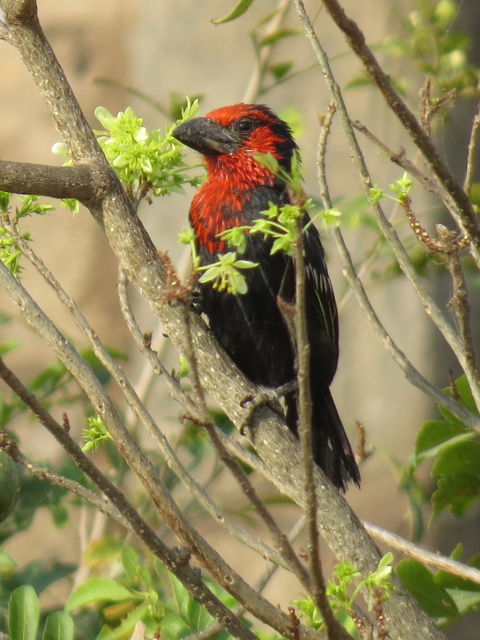 Narina Trogon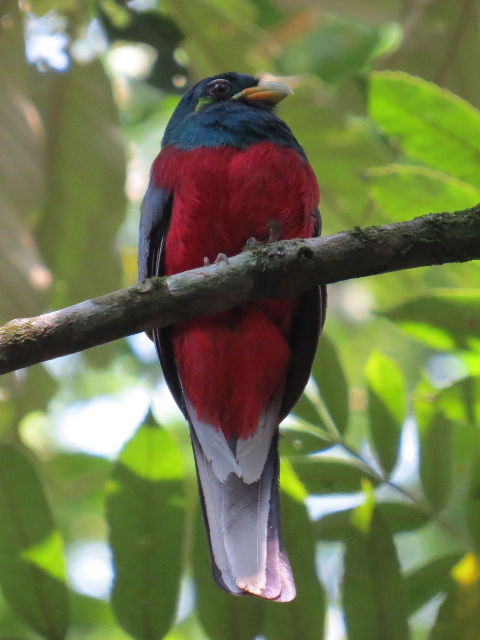 Variable Sunbird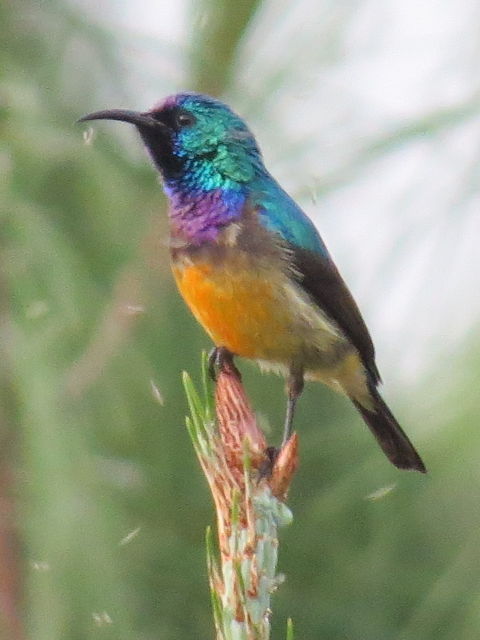 And, with that, it's - Goodbye Uganda!