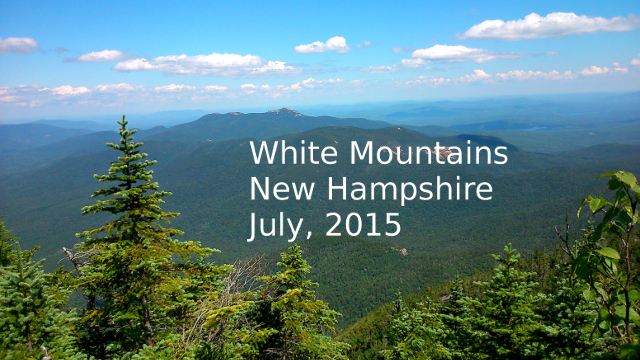 Two more day's of hiking in The Whites - that mark Carol's completion of the 48's (all the 4000-foot peaks in NH!)
The first day's hike - (clockwise) up the Blueberry Ledges to the summit of Whiteface, around The Bowl, climb Mount Passaconaway, and loop back along the Dicey Mill Trail
Heading out to Whiteface and Passaconaway
The tricky parts of this hike are the Blueberry Ledges. They don't look all that daunting from this angle...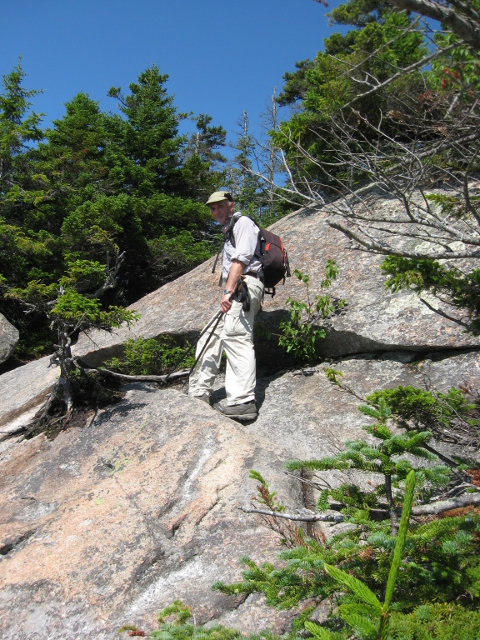 ..but, they are a bit more "interesting" in this view. And, you really have to be there to appreciate the full effect!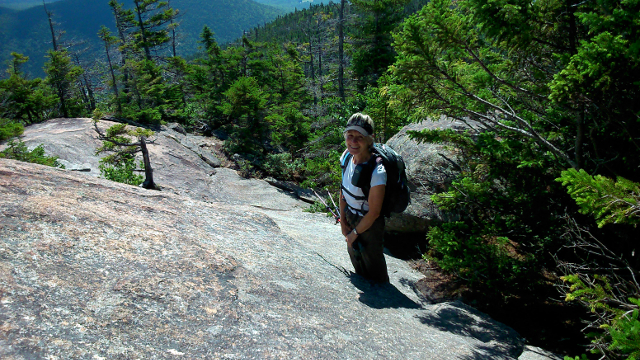 Initial success - the summit of Whiteface Mountain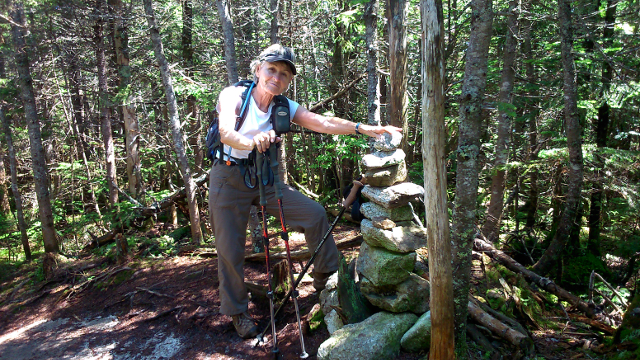 Now, it's around the rim of The Bowl (to the left) and up Passaconaway (right of centre)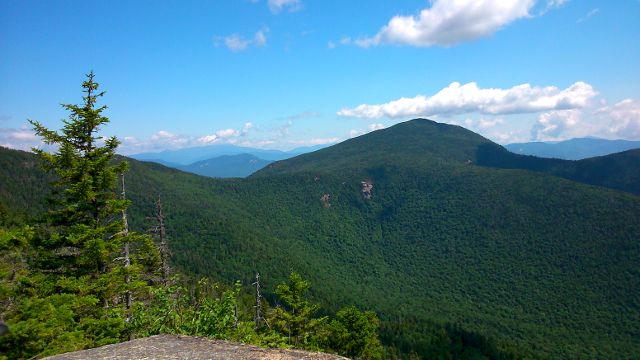 Our second summit of the day - Mount Passaconaway (with Mount Chocorua in the background)
The trail to Owl's Head is different. The first 13 km are along old railway beds that once served a number of logging camps deep in the forest. As the guide book says, the trail "climbs imperceptibly" along the railroad grade. Then, there's the slide! The terrain rises abruptly by 400 m in 1 km. (This is an in-and-out trail so the profile is a mirror image.)
Carol is climbing "imperceptibly"!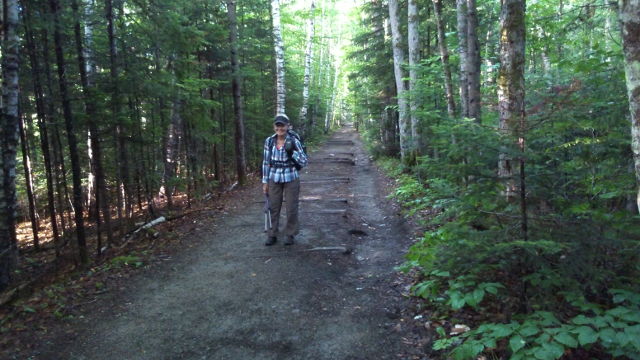 There are a number of water crossings of which some are easier then others.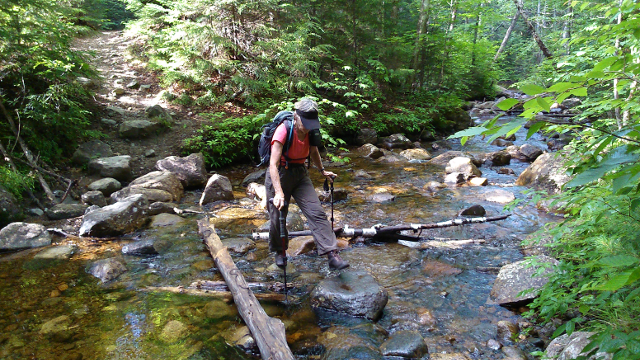 They are called "brooks", but they look more like rivers. Fast flowing, fairly deep in places, and not enough rocks, mean that wading across is necessary in parts - and making good use of hiking poles to maintain stability!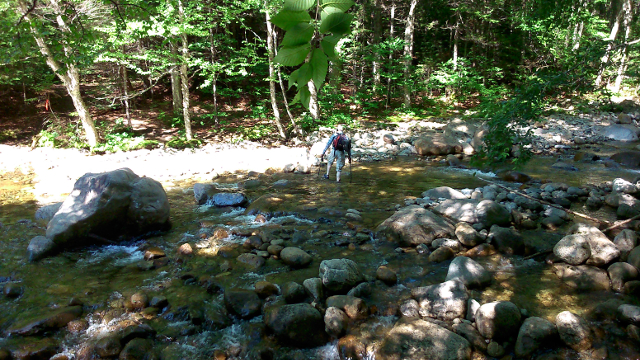 Then it's off with the water shoes, and back on with the hiking boots, in order to continue down the trail to...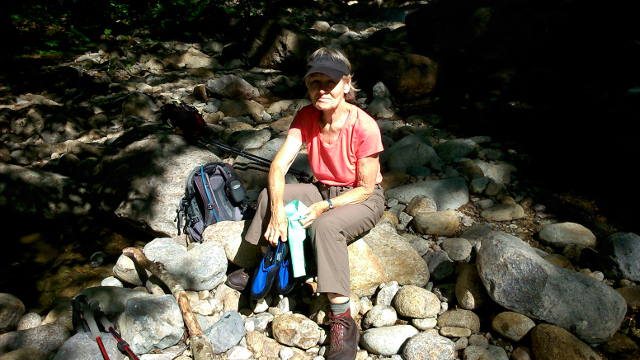 ...the start of the slide.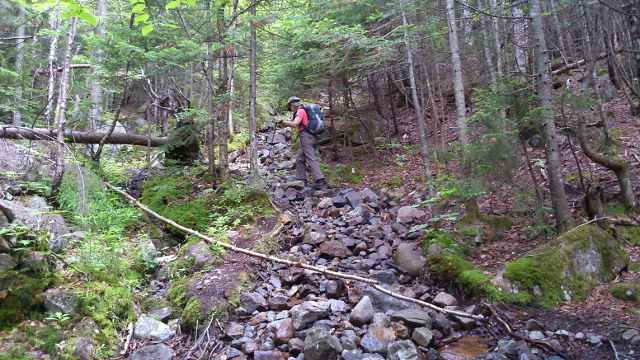 It doesn't look bad initially, just a bunch of rocks forming a trail, but then it gets really steep, with loose rock and gravel making climbing the really steep slope somewhat difficult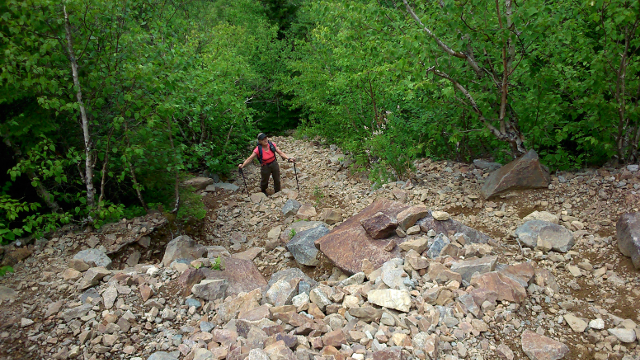 A really happy hiker. Not only is this the summit of the mountain, but it's the 48th summit in a series of 48!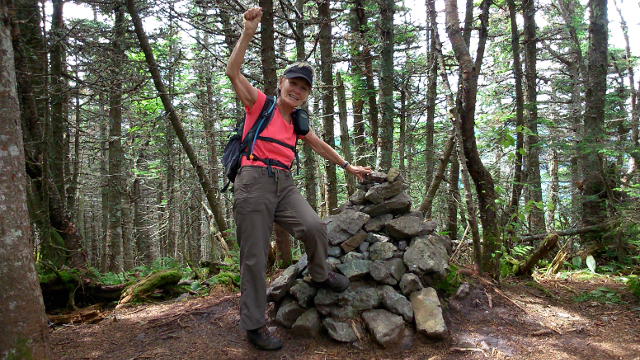 The other guy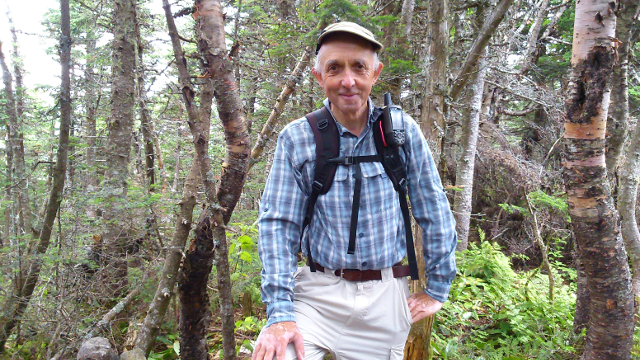 Two happy hikers - one who is glad that she has finished the 48's, and another who is glad that she has finished the 48's!