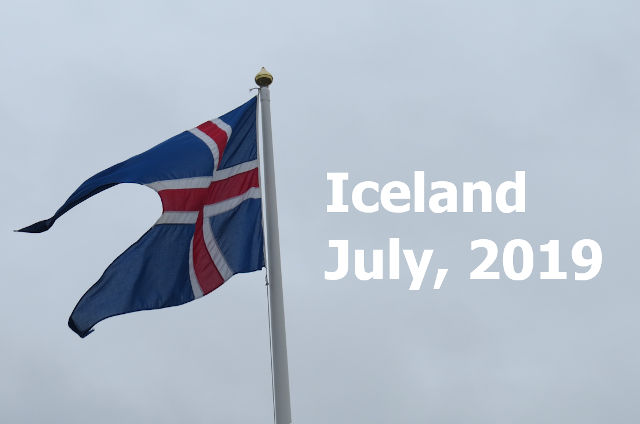 Our tour of Iceland revealed a country of somewhat stark
landscapes but with a broad range of features, including
...mountains...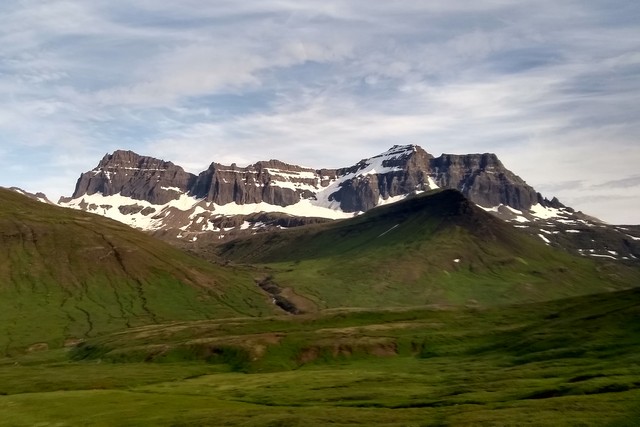 ...waterfalls...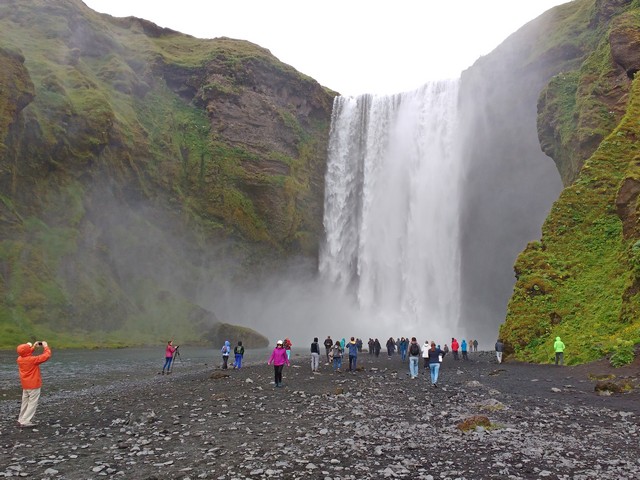 ...fishing towns and villages...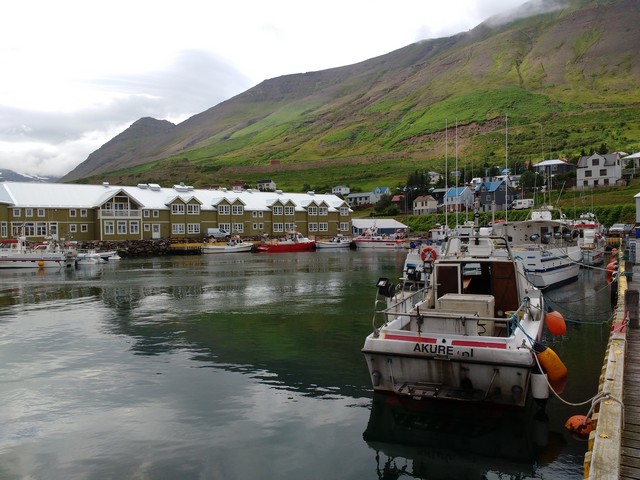 ...glaciers...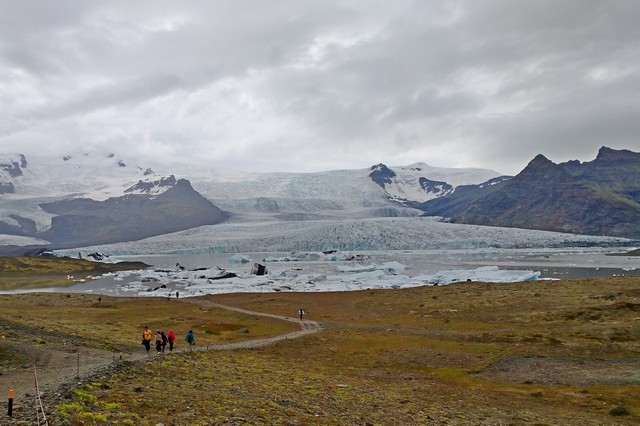 ...glacial lagoons...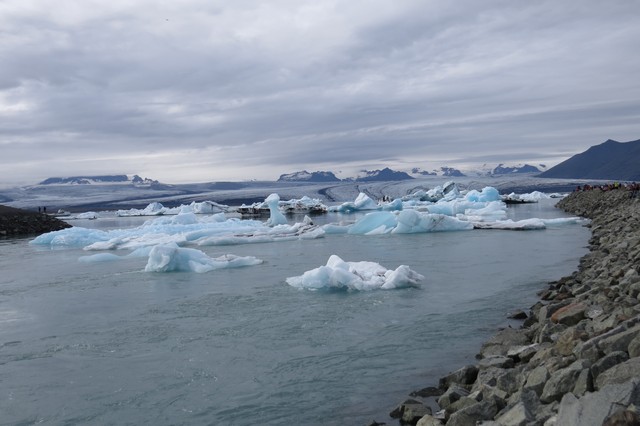 ...and (mostly inactive!) volcanoes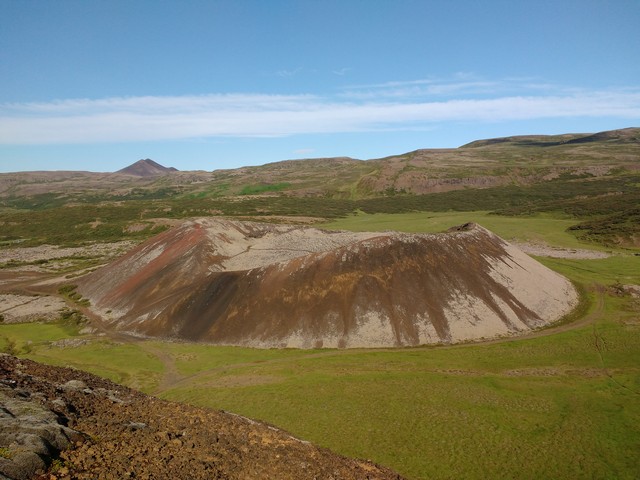 Buildings were quite colourful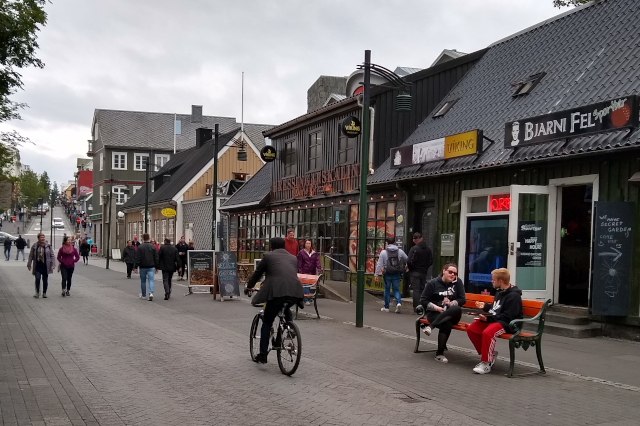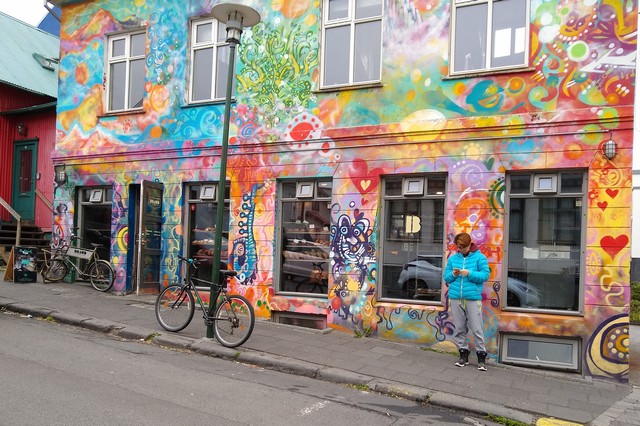 Some of the locals were a bit strange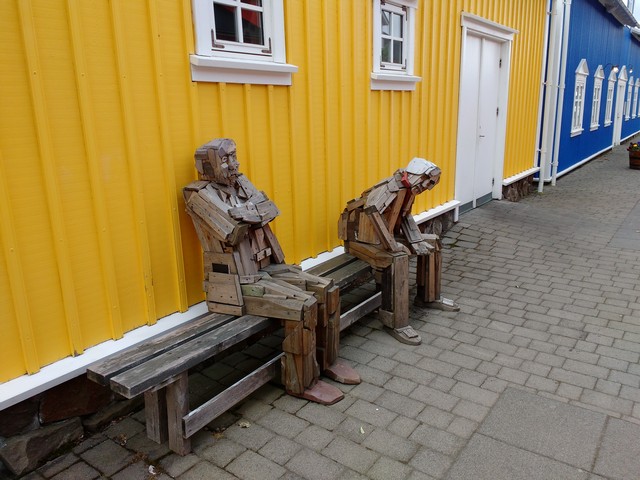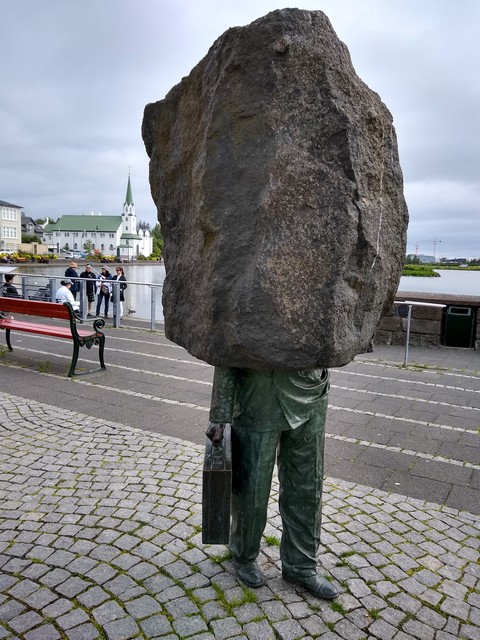 Reykjavik had a number of ultra-modern buildings such as "Harpa",
the city's concert hall and conference centre...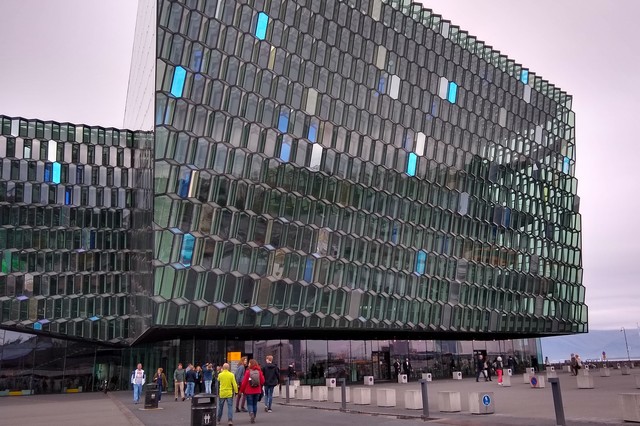 ...and "Hallgrímskirkja", the Lutheran parish church in Reykjavik,
with the adjacent statue of explorer, Leif Erikson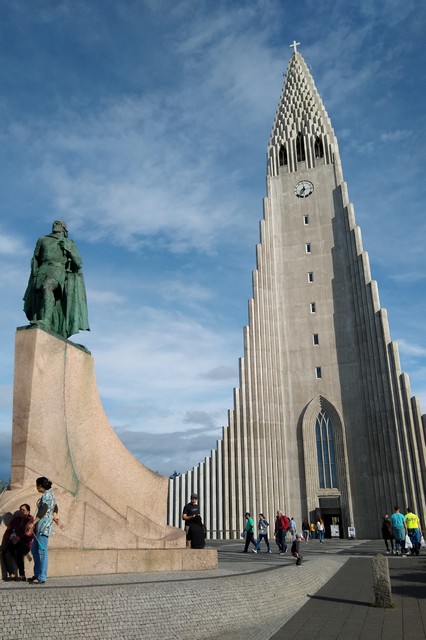 And, then there are the ever-present tourists!
(We were joined on this trip by our friend Eva.
This trip was her retirement present to herself.)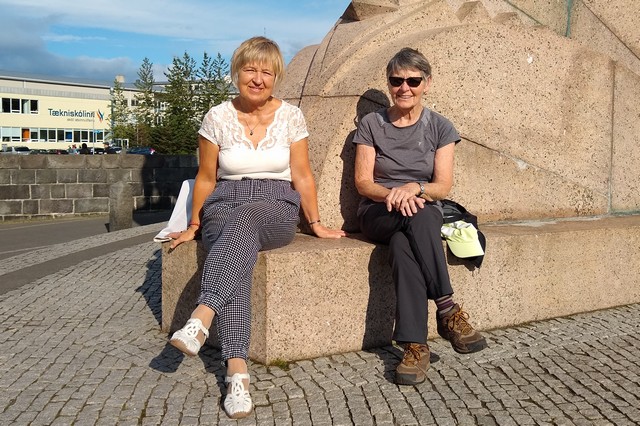 We took a mini-bus tour operated by Arctic Adventures
Our tour took us all around the island over six days, stopping at
overnight at various towns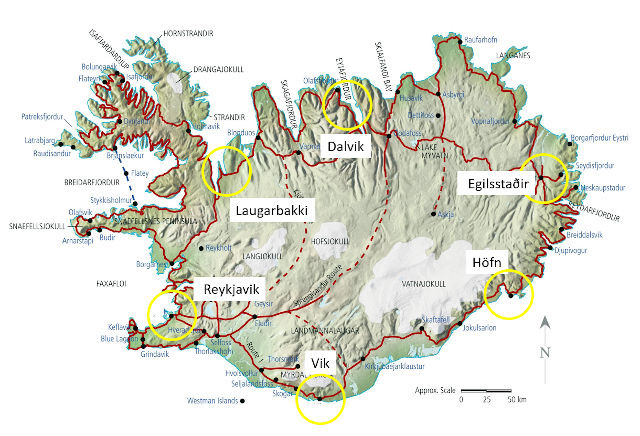 We visited many locations of special interest such as Þingvellir
National Park, the site of Iceland's first parliament (930 AD).
Today, the most notable feature is its location on the crest of the
North Atlantic Ridge - the junction of the North American and
Eurasian tectonic plates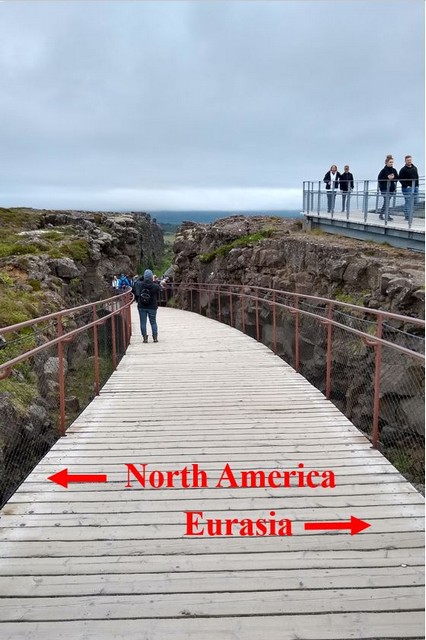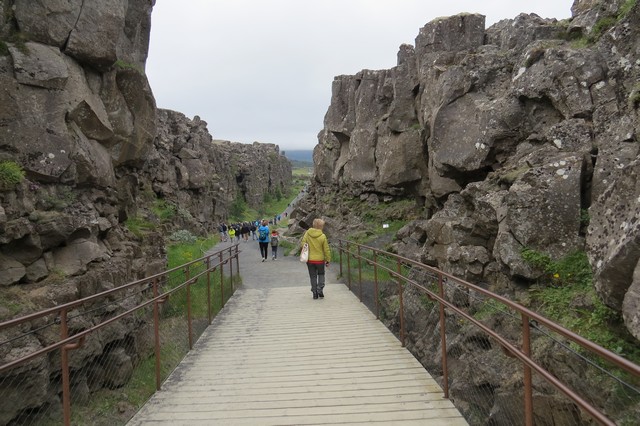 Some other geological features for which Iceland is famous are
the various hot springs located across the country.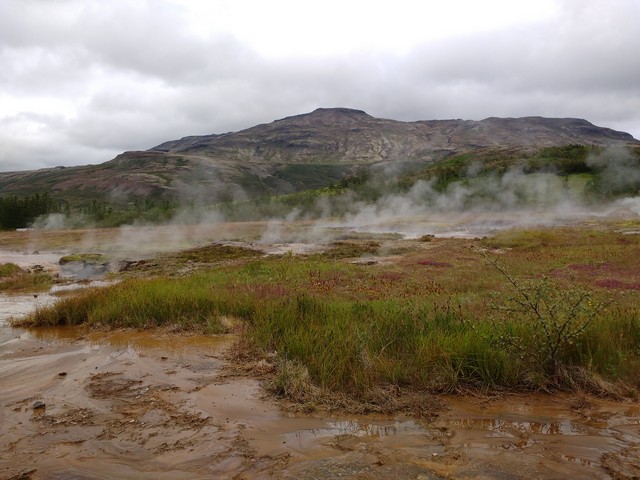 So, what are all these people waiting for?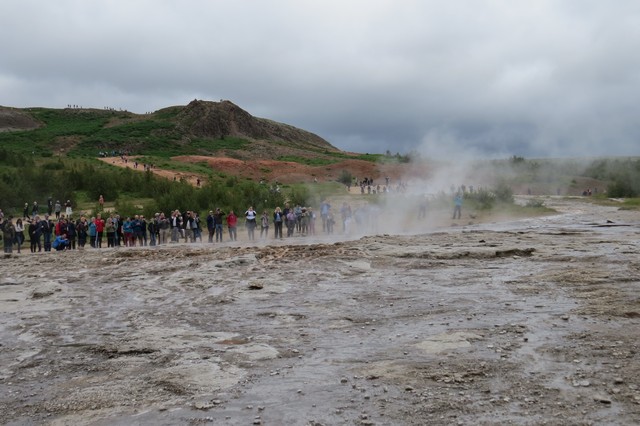 A geysir! The first geysir is called, not surprisingly, "Geysir" and gave its name to other similar features around the world. Today the
original geysir is not very active, but "Strokkur" erupts every few
minutes and shoots a column of water 20-40 m into the air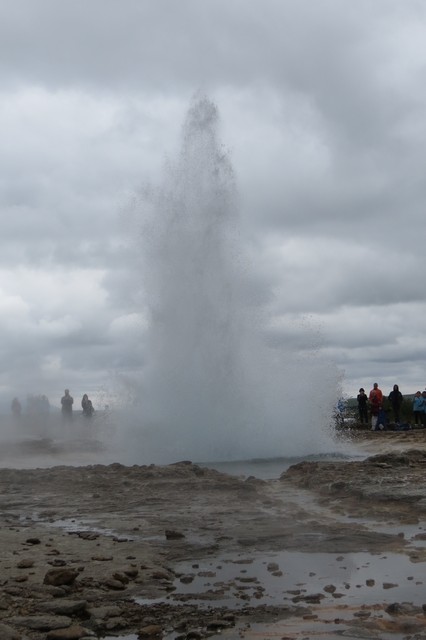 Other thermally-active areas have bubbling mud puddles...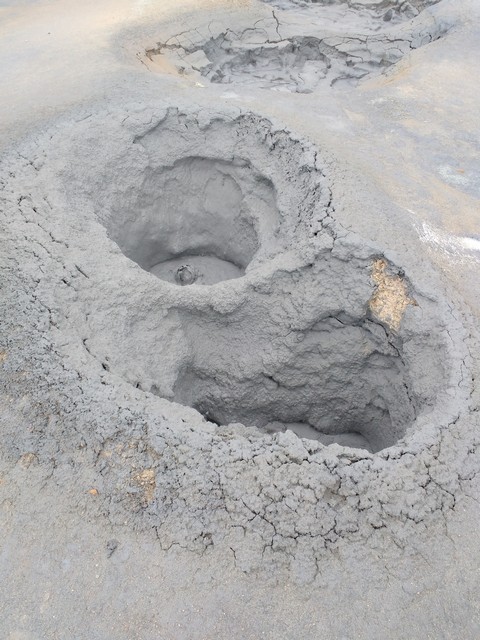 ...or pools of boiling water
Thermally-active areas

Download the videos:
On a large scale, such hot-water sources are captured and piped to
nearby towns to supply residential heating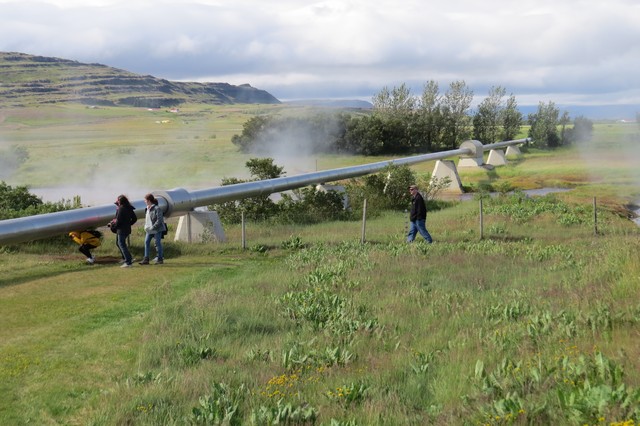 On a smaller scale, a bore hole provides hot water and steam. The
steam is separated and used to drive a turbine to produce electricity,
while the hot water is used locally to heat greenhouses and/or
nearby residences.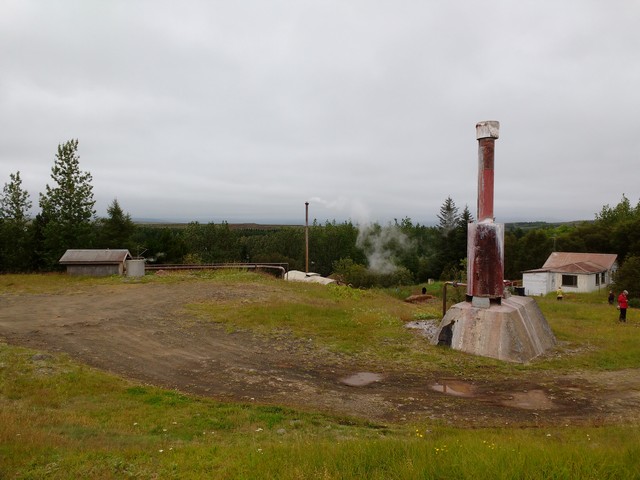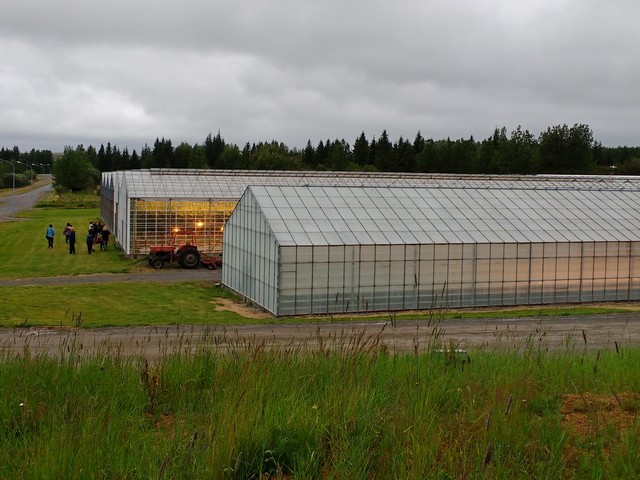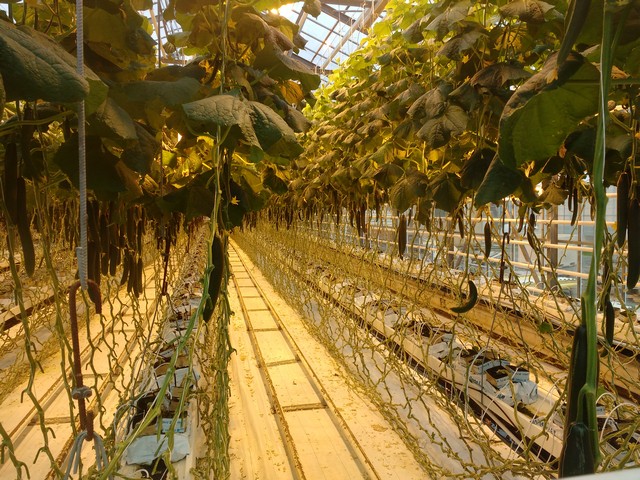 Our tour company is aptly named, featuring a series of Icelandic
adventures. Here, we set out to walk on a glacier...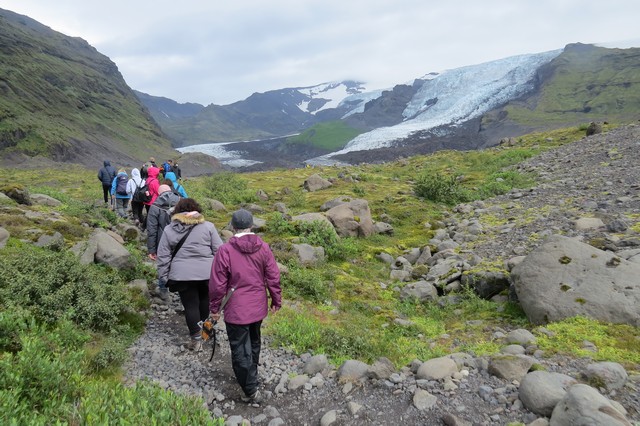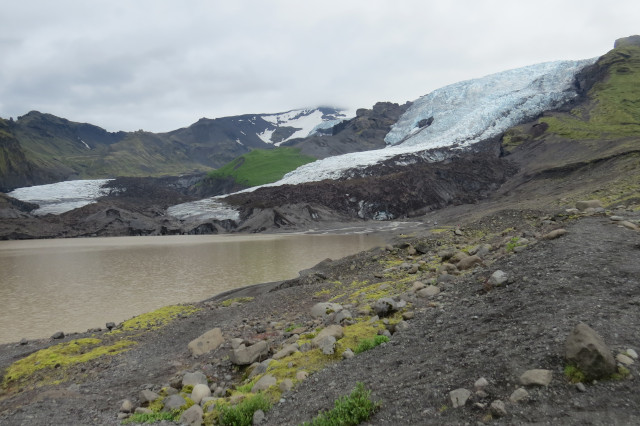 Climbing up the terminal moraine to reach the ice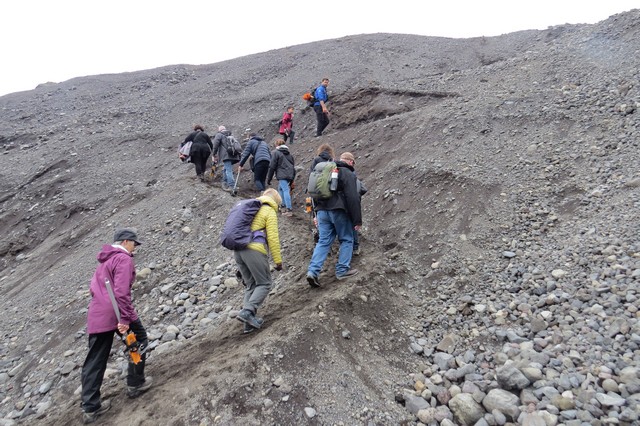 Fully prepared - with ice axes and crampons!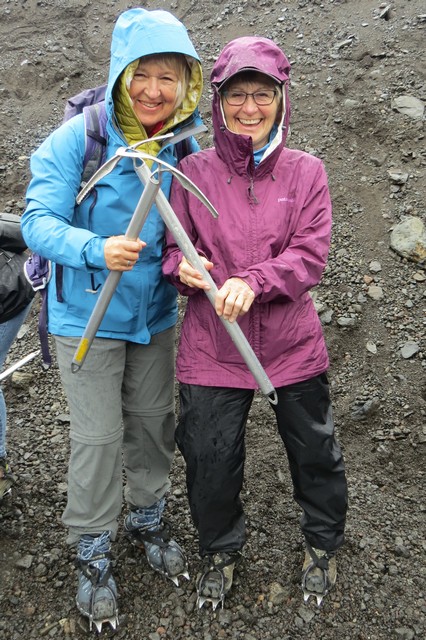 The hike across - or rather down! - the glacial ice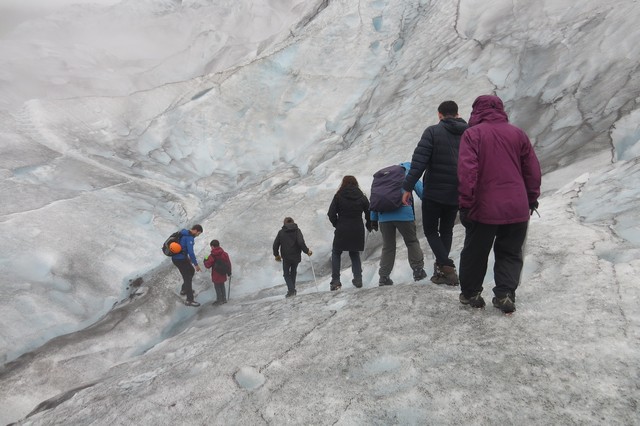 Some of the old buildings in Iceland used turf for much of their
construction such as "Hofskirkja"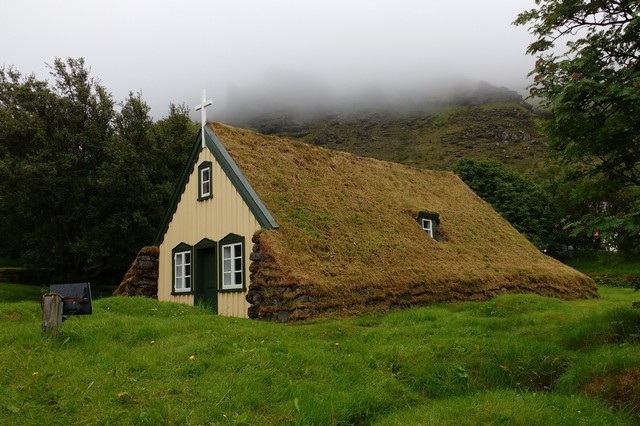 The National Museum of Iceland maintains the Glaumbær turf
farm complex in Skagafjörður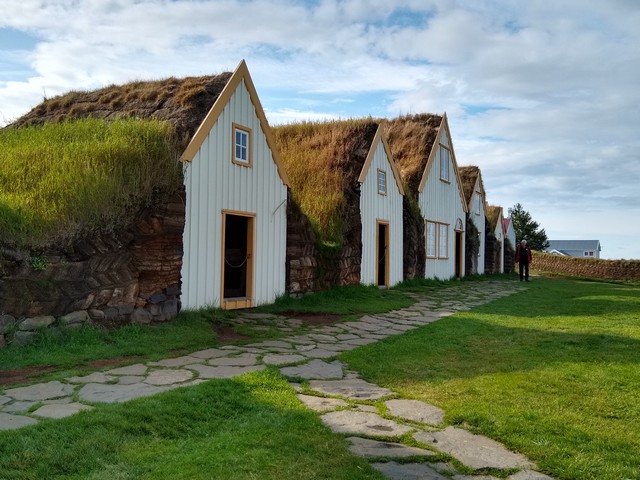 The construction process with turf for both doorways and walls is both interesting and exact!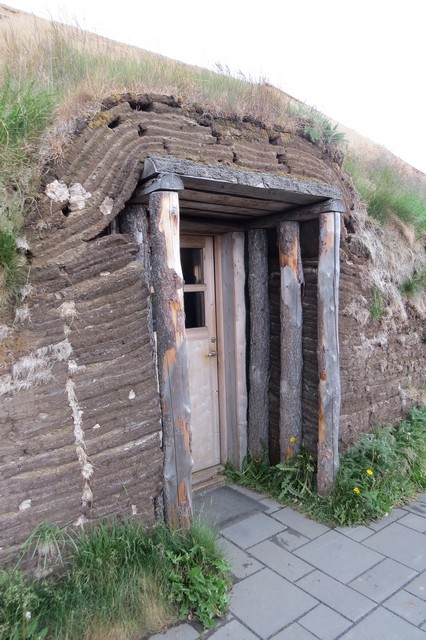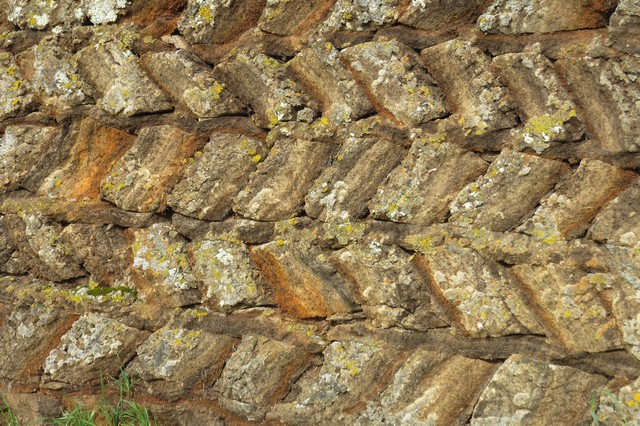 This trip was basically a cultural/adventure tour, but we did take
binoculars...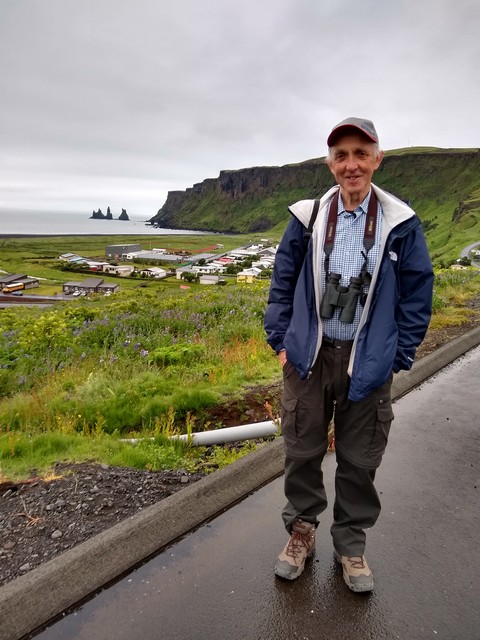 And we saw a number of common European birds, including...
Greylag Goose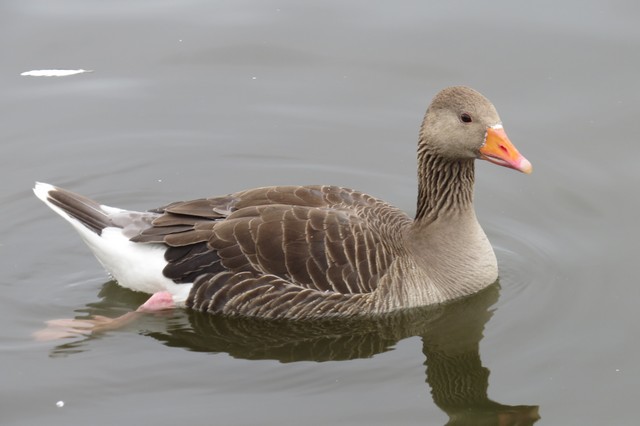 Whooper Swan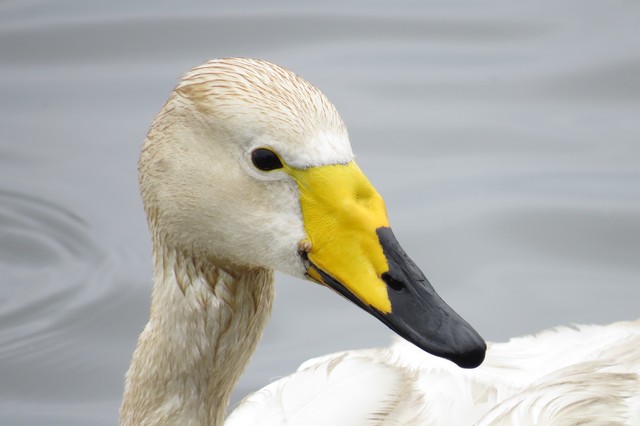 Lesser Black-backed Gull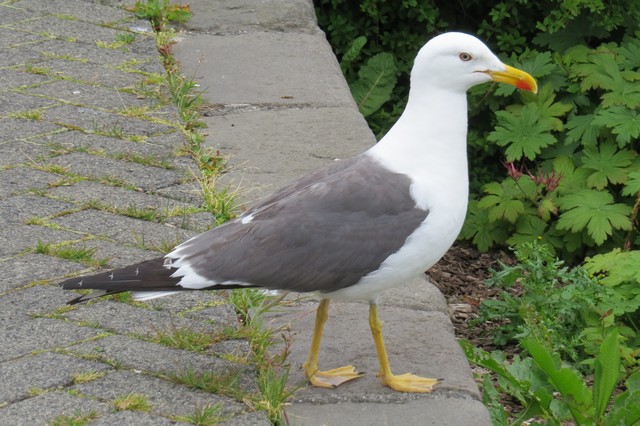 But, our best bird - a lifer! - was a Great Skua, a predatory
seabird in the same family as the North-American jaegers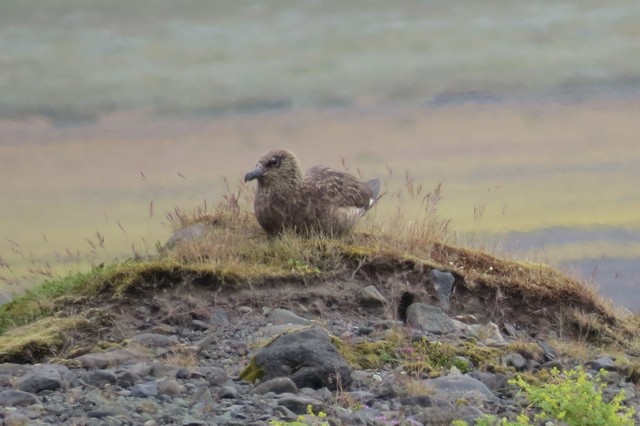 And now it's time for another of our arctic adventures - a trip up to
and around a volcano (Grábrók)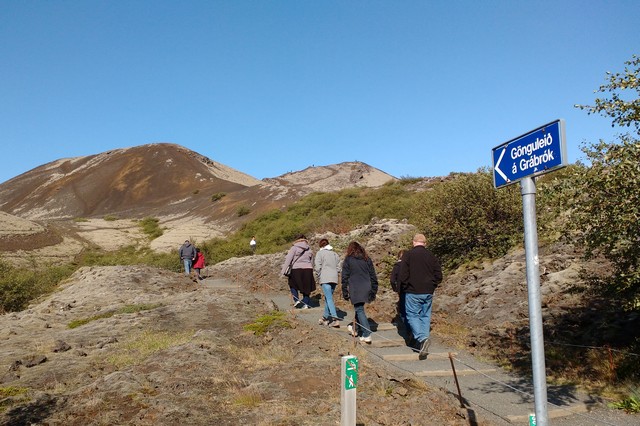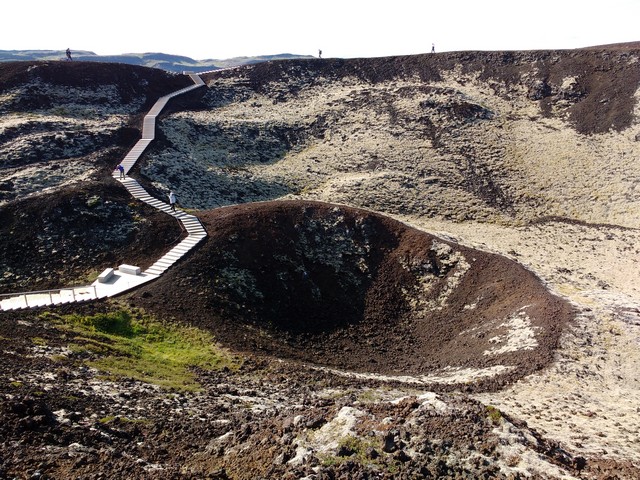 The right side of the crater wall collapsed allowing the lava to run
off to create an immense lava field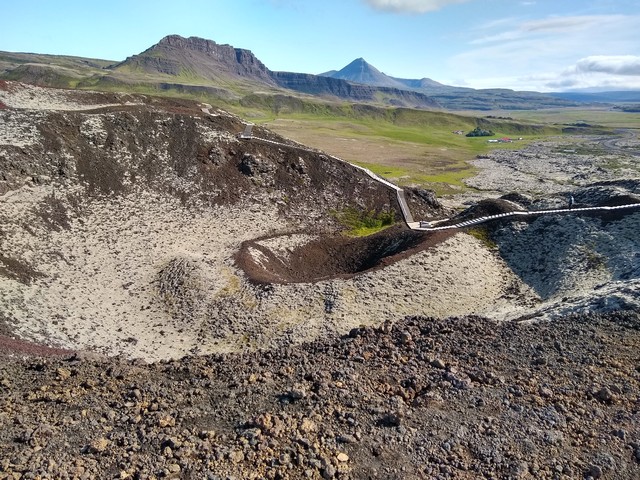 The lava fields are a major component of Iceland's landscape and
are slowly being covered by vegetation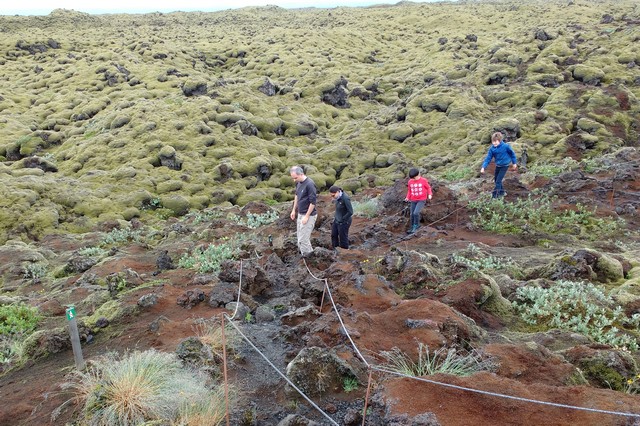 Some of the lava cools and creates hexagonal columns of basalt
in spectacular formations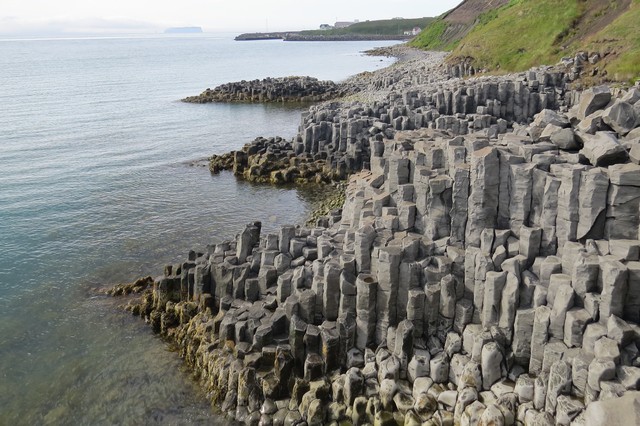 While this wasn't a birding trip, the tour did visit one village
(Borgarfjörður Eystri) with colonies of nesting seabirds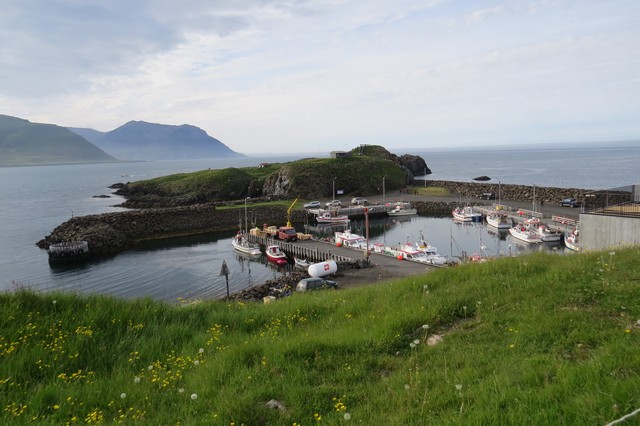 Black-legged Kittiwake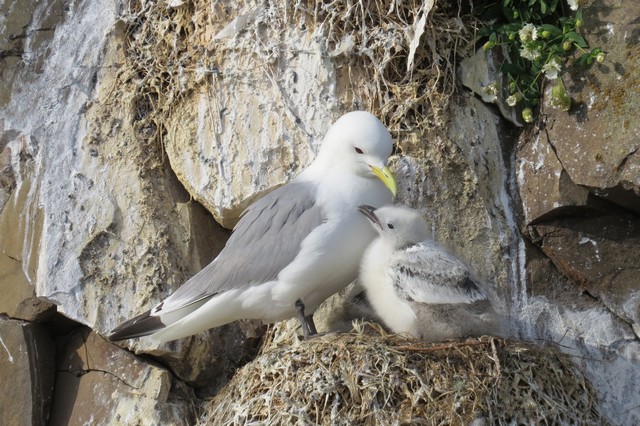 Atlantic Puffin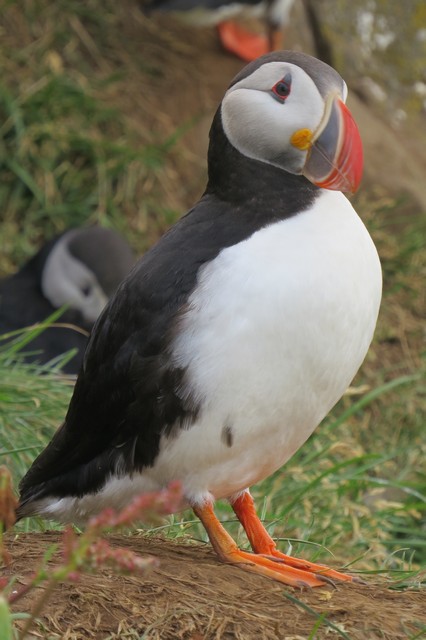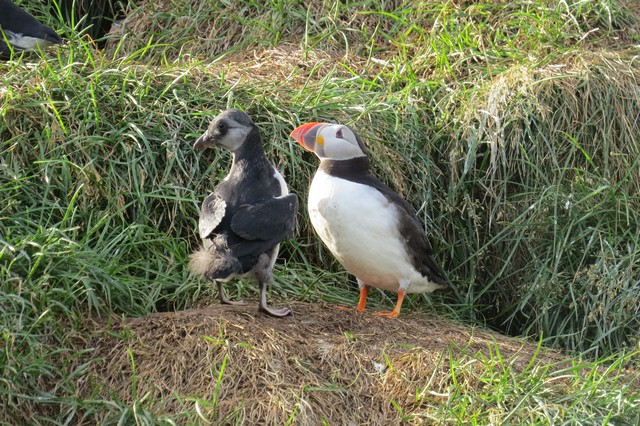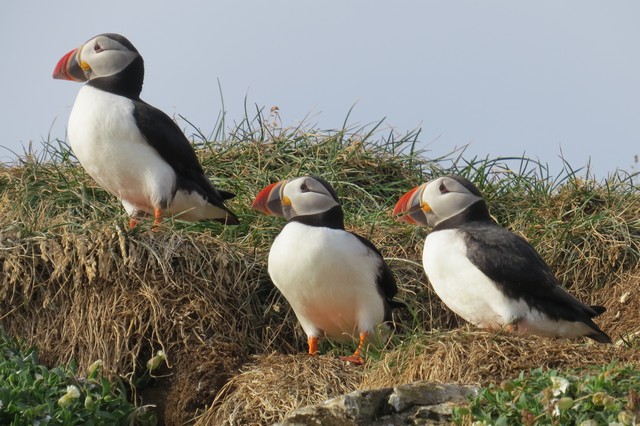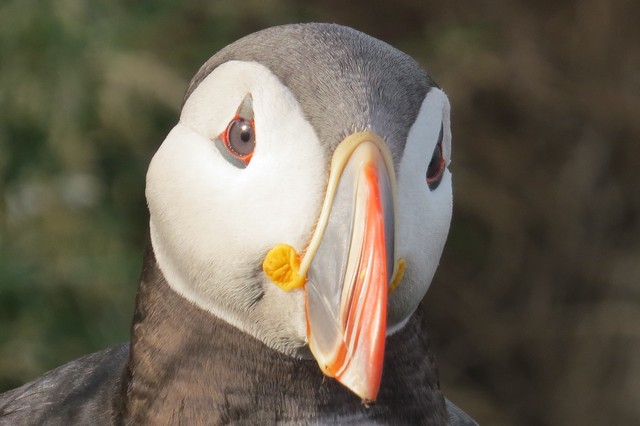 Our three intrepid adventurers kitted out to go to sea...
...to see whales...
...but also to do a little fishing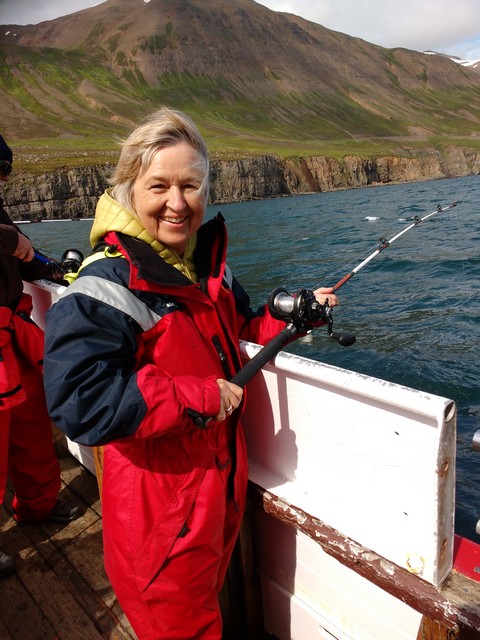 And, we've hooked...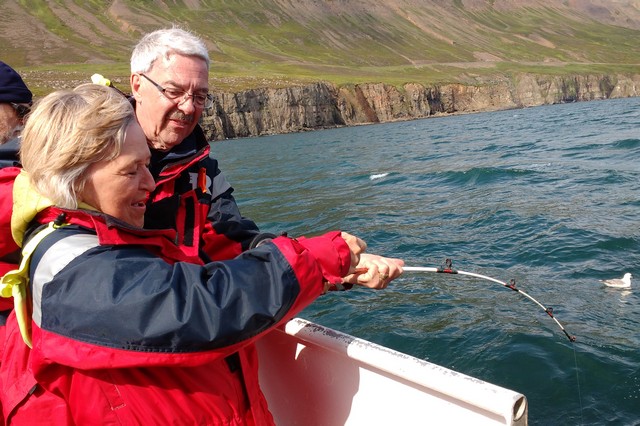 ...a big one!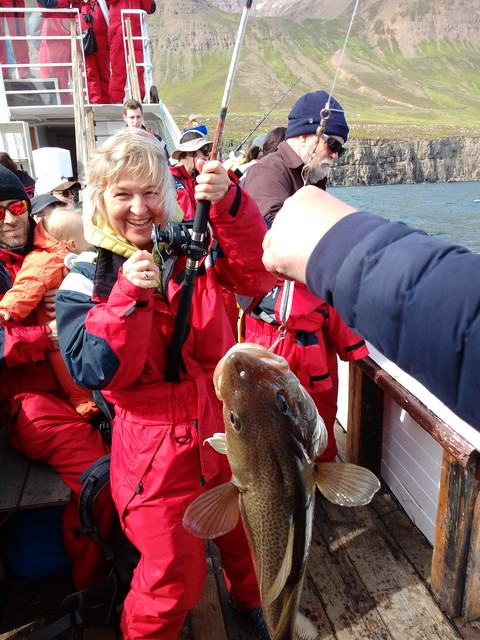 The catch (Atlantic Cod) is processed on board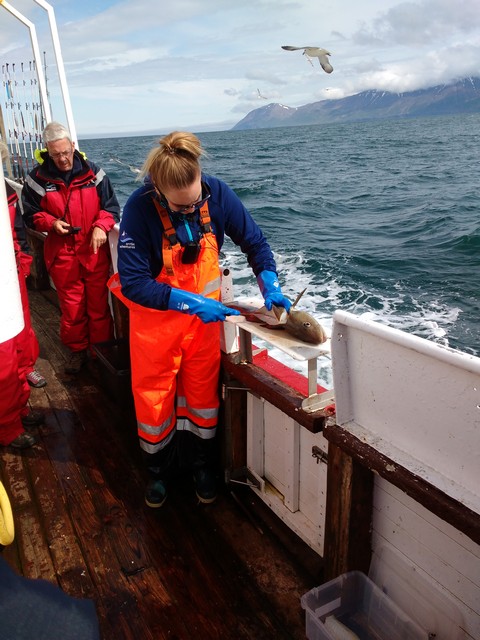 Nothing is wasted with a flock of Northern Fulmars shadowing the
boat on the way back to harbour

The freshest grilled fish in Iceland - Thanks Eva!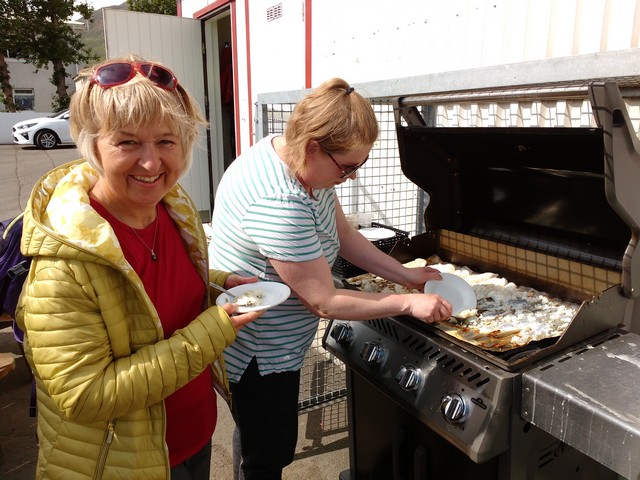 Another spectacular feature of Iceland - its waterfalls
This is Hengifoss, a series of waterfalls stretching up the hill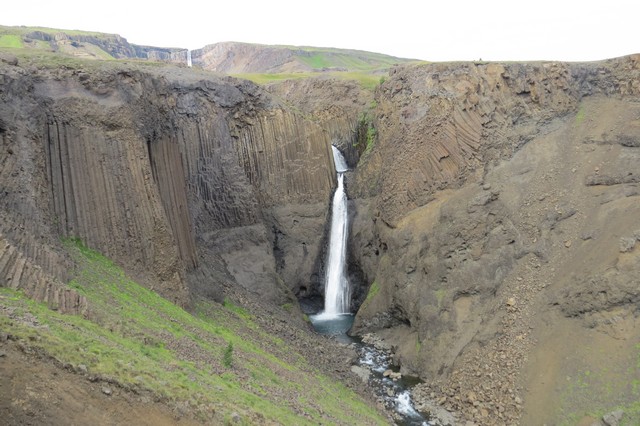 The upper waterfall is the third highest in Iceland, with a vertical
drop of 128 m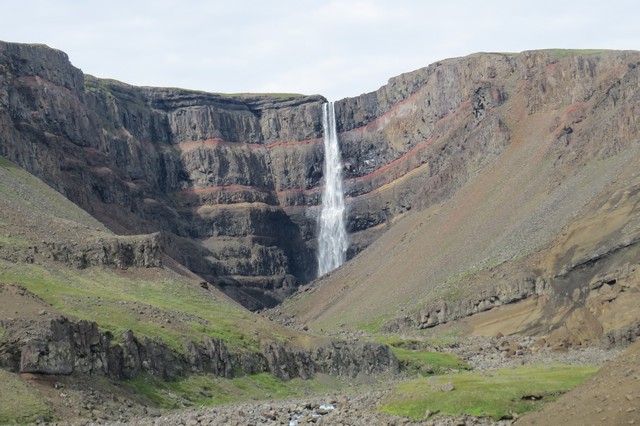 Today's adventure was to hike to the upper waterfall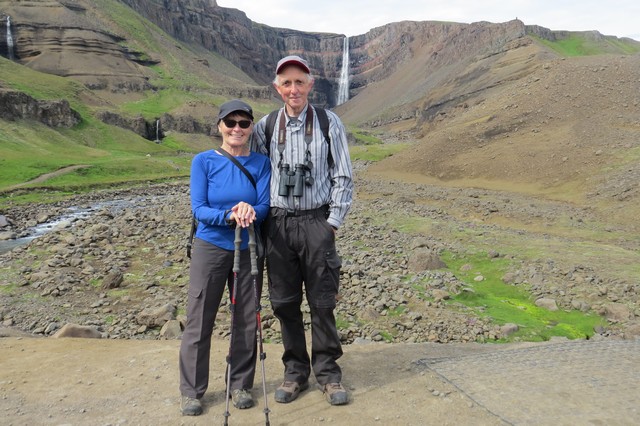 Iceland's waterfalls are quite varied in their form. This is Dettifoss
the most powerfull waterfall in Europe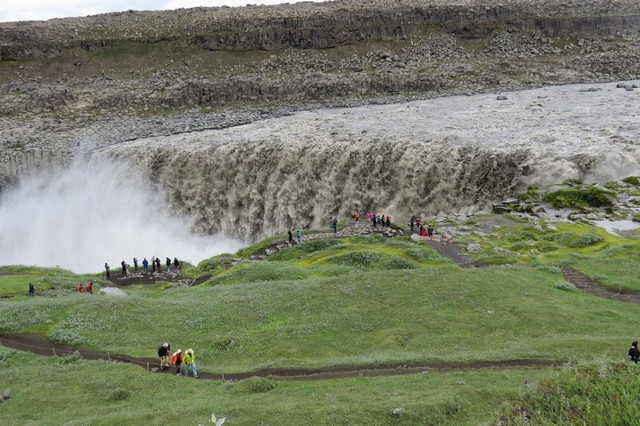 Hraunfossar is a broad series of more delicate waterfalls...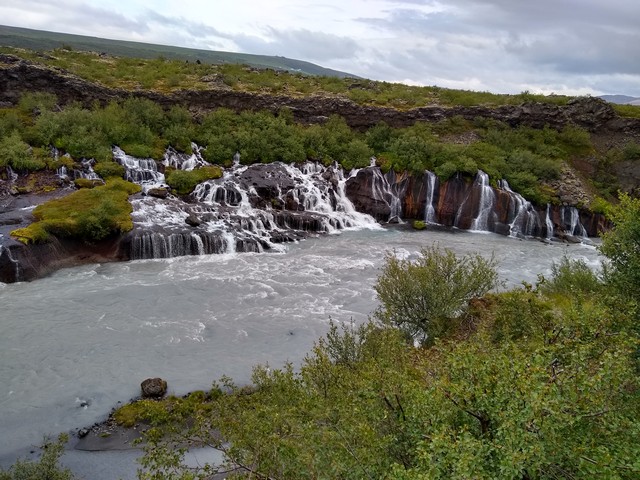 ...while Seljalandsfoss is a more classic waterfall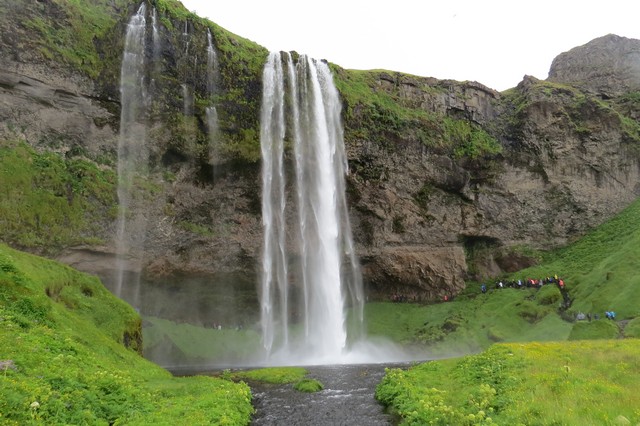 Waterfalls

Download the video:
Some other notable features of Iceland - a sense of humour!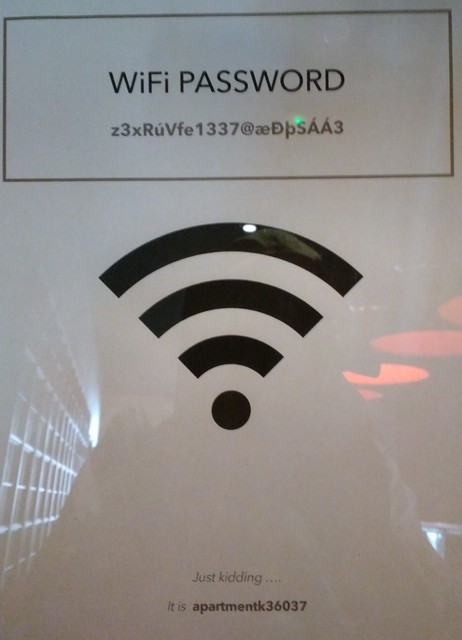 And, a special breed - the Icelandic Horse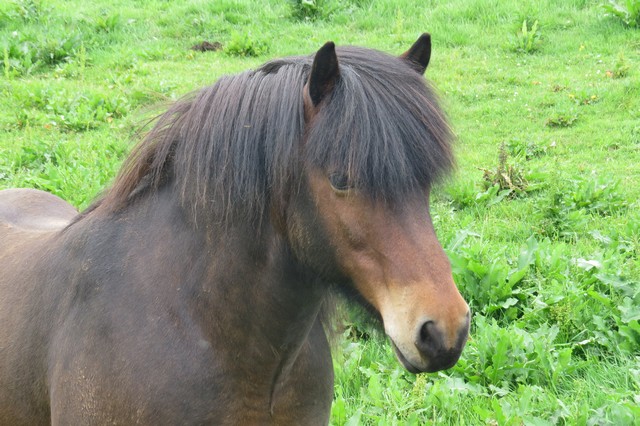 And, finally, it's time to say goodbye from our three Icelandic
adventurers... Bless